write a review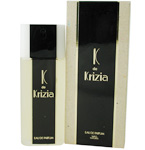 Women who wear K De Krizia perfume by Krizia radiate a fresh, gentle spirit that is attractive and relaxed. This women's fragrance successfully combines soft, subtle florals and woodsy moss to create an understated flowery scent. Tropical vanilla and calming amber add a hint of sweetness to the mix, making this a fun perfume for everyday wear. Introduced in 1981, K De Krizia is perfect for the free-spirited personality, and its casual elegance can easily go from lunch with friends to the movies on date night.
Write a review and share your opinion about this product with others.
Just fill out the form below and click the "submit review" button.
Thank you for your effort. We appreciate it.
We'd Like to Thank You
to receive special offers & coupons! (optional)
I'm so glad to see K de Krizia back. I started using it in 1982 and bought the last 3 bottles in 98 when I found out it was discontinued. I had a few splashes left and typed in a search and found it. I got so excited, I told everybody. This is the only perfume I wear. Nothing comes close!! Thank you for bringing this back!!
Written by Lori on October 01, 2013
Read Review details ►
My favorite scent, not log ago a gentleman followed me in HomeDepot to ask my what I was wearing, still have it after all this time, wearing it since 1985 .
Written by Heather on July 31, 2013
Read Review details ►
This my all time favorite...I have worn this fragrance for years!
Written by Eileen on June 22, 2013
Read Review details ►
Krizia is an unusual fragrance-We have had a difficult time finding this scent in any of the major stores-we were pleased to find it at Fragrancenet and at a great price-we thought it had been discontinued-
Written by Anonymous on February 26, 2013
Read Review details ►
Lovely old fashioned scent, much like Opium (old one).
Written by TK on January 24, 2013
Read Review details ►
My best friend turned me on to KRIZIA over 20 years ago. Was so sad when it went off the market. It is the only perfume people ask me about. My best friend lost her battle with breast cancer. I know she is smiling now that I have found it again. Thanks for bringing it back. This is the only fragrance I want to wear.
Written by Micheala on January 23, 2013
Read Review details ►
I feel like I have found a long lost friend. I wore Krizia years ago and loved it then. I still have the bottle because I could never find it and didn't want to forget how beautiful it smelled. I am so excited to have found it and am looking forward to surprising my husband on date night by wearing the one fragrance he loved above all others when we were dating. Please find the larger bottle...This small bottle is NOT going to last long at all!!!
Written by annieohome on May 24, 2012
Read Review details ►
The first time I wore it was 1985, I loved it then and I love it now. It's light and sexy no matter what you are wear nor where you're going. For the past 26 years I haven't found anything yet comes near it. Men and women both can't help take notice. I'll keep wearing it as long as I can find it. .
Written by Delizalee on December 20, 2011
Read Review details ►
We thought that the K De Krizia fragrance was discontinued, couldn't find it anywhere. I finally found it at fragrancenet after I just tracked my package it's in So. Ca. and should arrive tomorrow. I couldn't wait I ordered another bottle for my good friend who wore it also. She doesn't know that I found Krizia and she's going to be in shock.
Written by Rhonda on November 21, 2011
Read Review details ►
K de Krizia has been around over 30 years. I have had more compiliments on this perfume than any other. Men who do not care for perfume find this scent to be intoxicating. Enjoy!
Written by Ava on November 20, 2011
Read Review details ►