write a review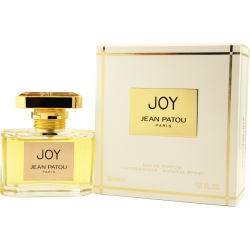 With its mix of rare oils, Joy by Jean Patou is a delightful scent that is just what you want for an evening out on the town. The fragrance includes a combination of jasmine and rose notes, creating a classic scent that has been a favorite among women since 1930. Whether you choose to wear it for a night out with friends or an intimate evening at home with your loved one, Joy gives you a scent that is perfect for any occasion.
Write a review and share your opinion about this product with others.
Just fill out the form below and click the "submit review" button.
Thank you for your effort. We appreciate it.
We'd Like to Thank You
to receive special offers & coupons! (optional)
Joy Perfume - It's the only fragrance I've ever used since my husband started buying it for me many years ago. Now that he's gone, I'll continue buying it for myself, and of course, it will make me think of him.
Written by Zane's lady on October 07, 2014
Read Review details ►
I really like JOY. For me it has a nice clean scent. Nothing to strong, just subtle. I wear it all the time.
Written by Cheryll K on June 12, 2014
Read Review details ►
I first experienced the wonderful fragrance of Joy when my sister (now deceased) introduced me to it. I haven't seen this in any stores recently, but in the precious memory of my sister, Lucille, I am ordering Joy. The fragrance will always bring many precious memories to mind and heart. Thank you for making this possible.
Written by Patrice in CA on June 09, 2014
Read Review details ►
Joy has given me joy for most of my life. It was a gift to me as I graduated from nursing school and, though I like many other fragrances, Joy is the one I choose for any special occasion or to lift my spirits should that be a necessity. I am never without it. Even as a 69-year-old retiree, on a pension, I budget for this incredible fragrance that has added so much pleasure to my life.
Written by Carmen H. on April 14, 2014
Read Review details ►
Joy is a classic fragrance. I think it's best suited for the mature woman. Ages into a lovely rose scent.
Written by vintagemama on March 04, 2014
Read Review details ►
Love this classic and beautiful perfume. It's a lovely perfume to wear for those spring and summer months. I can really pick up on the jasmine and rose scents in this whimsical and summery perfume. It is timeless and remains a perfume I'll always have in my personal perfume collection.
Written by Cortney on February 24, 2014
Read Review details ►
A year or two after we were married, I bought JOY as a gift for my lovely wife. She loved it; I loved it! I have bought many different fragrances for her in the pat 57 years, but none can compare with JOY. It was in her stocking this Christmas
Written by Margaret'sLover on January 13, 2014
Read Review details ►
Joy by Jean Patou has been by my side all of my life! I have had many wonderful and even some wildly fun times in Joy. Tis the season for Joy . Peace......
Written by Annonomous on December 04, 2013
Read Review details ►
Joy is a perfume classic. I am always asked "what's that perfume you are wearing?". It is a scent that transcends the generations. I have been buying Joy for many years and have always found it difficult to buy until I discovered Fragrance Net. Fragrance Net offers such a wide range choice of perfumes at a good price.
Written by Cheryl H on October 26, 2013
Read Review details ►
Joy is my favorite scent of alltimes. I remember when I first smelt it on another woman and had to ask her what it was. It was also Jackie K's favorite. Many perfumes are on my dresser but Joy remains my best
Written by vtssugaree on September 05, 2013
Read Review details ►