write a review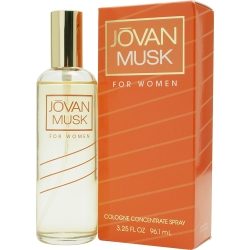 Bring a touch of sweetness to your life with Jovan Musk by Jovan. This mix of light musk scents and delicate floral fragrances is the perfect finishing touch for your next date or romantic encounter. Introduced in 1972, Jovan Musk allows you to explore the passion within, giving you confidence that will carry you through the evening. Spritz it onto your skin as you finish getting ready for a date and enjoy the burst of excitement it brings.
Write a review and share your opinion about this product with others.
Just fill out the form below and click the "submit review" button.
Thank you for your effort. We appreciate it.
We'd Like to Thank You
to receive special offers & coupons! (optional)
I have worn Jovan Musk on and off for years. I really like this scent but can't find it as easily as when it first came out. I was glad to find it at a reasonable price. My old bottle is almost empty. I like to have several different scents to wear and don't want to spend $50 or more on each so I was happy to find your site. I bought some for my family members for Christmas.
Written by Anonymous on July 14, 2014
Read Review details ►
I use this for all day and night wear !!! 20 YEARS !!!!! I wont use anything else-- Its Fabulous !!!!! I wont buy it anywhere else-no hassle-great deals and better than any store !!! Trust and gratitude ---5 star GREAT !!!!!!
Written by June on June 10, 2014
Read Review details ►
I have been wearing Jovan Musk "Oil" since 1972. Never found anything more perfect for myself. PLEASE don't ever discontinue this product. This is my favorite product ever and I would be lost without it!
Written by Peachie/GA on May 20, 2014
Read Review details ►
I have been using Jovan Musk for many years. My body just works very well with this scent and I have gotten many compliments on it, though people have to be close to me to smell it...like when I hug someone. I had one parent at church that said she loved the smell of my perfume. I asked her how since I never hugged her. She said it was because I held her little one during the children's activity in the Primary Class and she could smell it on her.
Written by terriman on April 02, 2014
Read Review details ►
Jovan Musk... I love it do much that I use it everyday and everywhere and I always get compliments for it, but that is not the best part... The best is that my husband, a cronic odor allergic, that sneezes for every good or bad smell, loves this ONLY sweet smell. I cannot use even scented deodorant or shampoo, but Musk is harmless for his nose and great for mine!
Written by Mrs. Cary on March 27, 2014
Read Review details ►
I started using Jovan Musk when my Mom was using it. I didn't have to pay for it, so I thought it was great.... now after she is gone I still wear it so I can remember her scent and her love. I feel like I get a big hug from her every time I put it on.. I wish you could still get the bath splash, bubble bath and powder.....she would buy it all and we will always have this as a wonderful memory....thanks Mom for pushing me into a wonderful scent that I get compliments on every time I wear it....
Written by cjs62 on March 02, 2014
Read Review details ►
Musk is my favorite scent, I wear it all the time, even and the plant I work at and I get alot of compliments, boy you smell good today, and that means who ever said it likes the scent too, I don't go anywhere without it!!!!!
Written by Darla on February 06, 2014
Read Review details ►
Jovan Musk...I have loved this fragrance for years. It goes great in any occasion and I always get compliments when I wear it. I did have a problem with one of the bottles being cracked, when my order was delivered, and it leaked all over. However, I notified the company and they immediately offered me a refund. GREAT customer service.
Written by Sue Y. on December 26, 2013
Read Review details ►
I've been wearing Jovan Musk Oil for Women since I was 11 years old and my mom bought me my first bottle for my birthday. I'm now 52, and I have never worn any other perfume. I am always complimented on my scent where ever I go and I have loved this perfume from the first spray. I will always wear this perfume!! I love it!! I'm always asked what perfume I'm wearing. I love that it will never smell on anyone else like it smells on me. It's my signature fragrance!
Written by lisainhobbs on December 10, 2013
Read Review details ►
I have been using the original Jovan Musk since 1972! I will never ever use anything else! I get sooo many complements everywhere I go...........I LOVE IT! Its been 41 years.........:) Thankyou for still making it!!!!!
Written by Nancy on October 31, 2013
Read Review details ►