write a review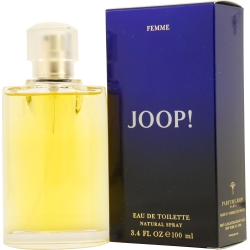 Explore your passionate side with Joop! by Joop! This beautiful mix of florals, vanilla and sandalwood is wonderfully sweet and feminine. Introduced in 1987, this fragrance for women adds just the right touch of excitement to a date or other rendezvous with the one you love. Spritz this light, delightful scent onto your skin before leaving the house for a romantic evening and enjoy the lasting sense of energy it brings to your every encounter.
Write a review and share your opinion about this product with others.
Just fill out the form below and click the "submit review" button.
Thank you for your effort. We appreciate it.
We'd Like to Thank You
to receive special offers & coupons! (optional)
I am a male who has worn women's Joop for many years. I have received many compliments on the fragrance and have no qualms about telling people it is a woman's perfume. Our family has often joked that my sister-in-law and I wear the same perfume. To me, most men's cologne/perfume is too "spicy" regarding the fragrance.
Written by Pat on July 10, 2014
Read Review details ►
I am a german woman and been wearing Joop since it came out in 1989, this scent will drive every man crazy. I have gotten so many compliments everywhere I am going and the male version will make any man irresistible .
Written by Ela on April 20, 2014
Read Review details ►
JOOP. I am wearing it right this minute! It is a heavily sensual bouquet of all things exotic and irresistible. It will be noticed. The positive reactions you will get when you wear it will make you feel very confident and happy. Who wouldn't be happy when they wear this memorable, bewitching potion? It is Bohemian and beautiful.
Written by juliette on January 29, 2014
Read Review details ►
What can I say! Only I wished I would have bought this perfume years ago. It is unique and smells so good. I'm making this my signiture scent. It's everything a perfume should be. It's playful, elegant, sensual, sexy, and more. Well done Joop! I never want to run out of this lovely perfume. Perfect blend all the way! The civit does not smell bad because the other scents play well with it. NEVER stop selling this beautiful perfume. Love Joop. Thank you Wolfgang Joop. Pronounced Yuop.
Written by Daisy on January 27, 2014
Read Review details ►
I don't know why I didn't purchase this perfume years ago. I had seen it in department stores and just passed it by. Well...I passed on the most wonderful perfume! This perfume is supreme! It smells like florals mixed with a bit of spice, then comes the soft woods and the most sensual sophisticated scent. It's hard to describe Joop Femme because diferent scents surface throughout the day. When you spray this on it's a bit strong, with a hint of greens to it, them mellows to a most delectable fragrance! And yes it last a very long time, sillage is excellent. And you will get compliments. To sum it up A glorious, splendid, earthy yet sophisticated well rounded perfume!!! What a perfume should be not candied water like so many perfumes today.
Written by Admirer of Joop Femme on January 13, 2014
Read Review details ►
I first receivd Joop for women as a gift from a friend in Switzerland. I can't find it in the states anymore in retail, so I am so happy that this company has it to sell. I wear it everyday to work and receive a lot of compliments from co-workers and also clients. And besides it makes me feel so good and that is why I continue to order and use it. Please don't stop selling JOOP for women. Thank you very much.
Written by Chris on September 08, 2013
Read Review details ►
I've known and loved Joop for years and hadn't worn it in a while, but recently smelled it on a German friend of mine and it was so subtle and beautiful, that I had to buy it again, and have been wearing it every day since I received it from Fragrance Net. I just love it!
Written by Astrid on August 20, 2013
Read Review details ►
I have worn this fragrance exclusively for over 20 years. Always the same result - compliments from women, and it drives men crazy. Love it!
Written by Jan on July 24, 2013
Read Review details ►
I have worn Joop exclusively for 20+ years. I've had constant compliments the entire time. When you find a perfume that works with your chemistry, go with it. It doesn't matter the time of day or age of the person. If it works with your chemistry, keep it! I'm no longer able to find it in stores in San Francisco Bay Area, so I started looking online and was brought to this website.
Written by Mari on May 20, 2013
Read Review details ►
I have been wearing Joop since the early 1990's. One of my absolute favorites!! Hard to find. So happy they carry it here. Even my husband loves it and he is very hard to please as far as scents.
Written by Deb from NY on February 27, 2013
Read Review details ►