write a review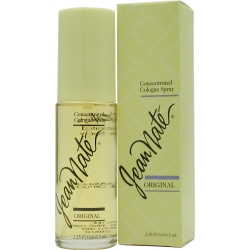 Bring an unexpected touch of sophistication to your evenings with Jean Nate by Revlon. A classic mix of of spice and floral notes, Jean Nate is a fresh and invigorating scent that will bring a smile to your face. Introduced in 1935, this lovely fragrance for women is the perfect finishing touch for an evening event. Spritz it onto your skin before you leave the house and enjoy the sense of old-world elegance and sophistication it inspires.
Write a review and share your opinion about this product with others.
Just fill out the form below and click the "submit review" button.
Thank you for your effort. We appreciate it.
We'd Like to Thank You
to receive special offers & coupons! (optional)
I remember Jean-Nate fragrance from my mothers room and clothes, now I wear it when I dress in my femme attire for years now and love it.
Written by Al(Lisa) on July 17, 2014
Read Review details ►
I have been using Jean Nate for many years. The best use is directly after a bath for an extra clean smell or on hot summer days put some in a spritz bottle and spray yourself - it really cools you off and it smells great in the hot summer air. It has a real lemony type smell that can't be beat!
Written by lollymadonna on May 01, 2014
Read Review details ►
I love Jean Nate! Comes on strong but not for long; lightens to a delightful fragrance that stays with me all day. Very refreshing and non drying.
Written by VE on October 03, 2013
Read Review details ►
I recently ordered and received Jean Nate after bath splash. I am so very happy it has been years since I have been able to find this product in Canada..This was my everyday scent .I always received compliments on how I smelled and am now looking forward to wearing this again I wish Revlon would reinstate this to Canadian Stores However thank heavens for Fragrance Net I was able to purchase I will do so in the future the service I received was Fantastic
Written by Joan on August 29, 2013
Read Review details ►
I have used Jean Nate for years and I am always asked what I am wearing. It is a subtle, clean smell. I have used it since the late 1950s and I am 74. I always receive nice compliments. I always purchase the 30 oz. size.
Written by Teri S on May 18, 2013
Read Review details ►
I have loved Jean Nate since my mom used it. As a little girl I loved the way she smelled and now I ware it and remember her when I put it on it takes me back to a time that I love. I have never used the bath oil but would love to see it on the shelves so I too coould use it.
Written by Pat Mortley on February 15, 2013
Read Review details ►
I have been using Jean Nate since I was a teenager! I'm now 68 and I am NEVER WITHOUT it! I just love it's beautiful clean scent! there's nothing like it! I even wear it on my body and then put on my fav scent after I'm dressed! it enhances the scent and I get tons of compliments! I hust love it!!
Written by Rose Mary Colarusso on October 02, 2012
Read Review details ►
I have been using Jean Nate since the 70's but I can remember my sister giving it as a gift in the 60's! Just love to splash it on after my shower and don't even feel right if I run out of it! I wonder why they don't dust it off and put it back in the forefront? I'm sure there's a whole new generation that would absolutely love it!
Written by Big Lou on September 04, 2012
Read Review details ►
I have used Jean Nate' for 53 years and still love it. I credit this fragrance with capturing my husband's heart and keeping it for over 50 years. He loved this fragrance as much as I did and would nuzzle my neck just to get a stronger wiff. At least that was what he claimed. LOL. I, too, wish that Revlon would bring back the bath oil and bath salts. I use the splash and spray all over my body and spray my clothes and hair too. I am always getting compliments on how great I smell. I use the dusting powder after my shower and on the mattress pad when I change the linens for a fresh scent every time you turn over. Jean Nate' has a fresh, clean unobtrusive scent that one never tires of smelling. It is a classic!
Written by shesow on July 21, 2012
Read Review details ►
I wish SO MUCH that somebody in the fragrance industry would convince Revlon to again sell Jean Nate Bath oil...the real stuff. little of that on a cotton ball tucked into the bra was a whole day of fragrance that turned heads and provoked questions..NOTHING LIKE IT!
Written by Kay Bateman on July 12, 2012
Read Review details ►