write a review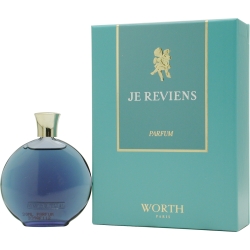 Je Reviens by Worth is a classic scent of soft florals and greens that brings a sense of romance to your life. Introduced in 1932, this beautiful fragrance for women adds the perfect element of sweetness without overwhelming the senses. Spray it gently onto your skin before you leave for a romantic encounter and enjoy the passion it inspires. The delicate scent lets you explore your inner confidence and lends just the right touch of femininity.
Write a review and share your opinion about this product with others.
Just fill out the form below and click the "submit review" button.
Thank you for your effort. We appreciate it.
We'd Like to Thank You
to receive special offers & coupons! (optional)
Je Reviens had been my favorite since 1970s and it simply vanished from the market here in the USA for whatever reasons I could not understand. I wrote to you some 5 or 6 years ago looking for this product, and now here it is indeed!!!!!!!!! Thank you. Merci.
Written by Mrs. T. Balderston on July 01, 2014
Read Review details ►
I got J'Reviens for my sister who had this as her signature sent for years! She has been unable to find it anywhere. I saw it on your website, and ordered it immediately. When she unwrapped it, she actually cried....thank you!
Written by Sparky on June 19, 2014
Read Review details ►
I have worn it for 28 years and its still my favorite
Written by Carol Raia on June 04, 2014
Read Review details ►
First given to me by my husband in 1970 and it is my signature scent. Everyone knows me by it. Most people of any age like it. Buy the perfume, use it sparingly, as it is more concentrated than the spray, which I think is only ok for on the go.
Written by Aunt Lee on March 31, 2014
Read Review details ►
I love the odd powdery first notes of Je Reviens. But why does it have to be so darn weak? It is such a let down after a few minutes but at the same time what I can smell is just intoxicating. I can't get enough of it,
Written by losergirl on February 10, 2014
Read Review details ►
When I got my first job, this fragrance was a treat to me with my initial paycheck. I wasn't disappointed then or now. However, my nose has changed over the years. Je Reviens is still quite nice but not high on my list of must haves.
Written by dishgirl25 on December 26, 2013
Read Review details ►
I have used this fragrance over twenty years. Others come and go but I always return to this one,
Written by Marie on December 24, 2013
Read Review details ►
Je Reviens is one of a kind. No other scent comes close as it is so unique. Indescribable. Experience it once and you'll own it forever.
Written by Valerie on November 25, 2013
Read Review details ►
This takes me back to many a year ago, when I was in undergraduate school. It is suitable for most any age as it is not too heavy and has a refreshing scent, not too heavy. I highly recommend it!
Written by Poopsie on November 13, 2013
Read Review details ►
I've worn this fragrance for 50 years and it is always wonderful. I find that just a tiny drop of the perfume is the best way to use it. They sprays do not have the same subtle aroma.
Written by Sheila on November 05, 2013
Read Review details ►