write a review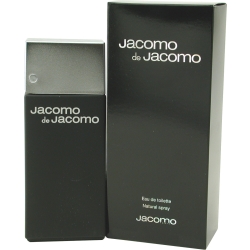 Add a touch of nature to your day with Jacomo de Jacomo by Jacomo. This warm and refreshing cologne for men is the perfect mix of crisp greens, sandalwood and patchouli. Introduced in 1980, Jacomo de Jacomo is the ideal way to add style to a casual outing. Apply it to your skin before you leave the house for a day of running errands or an informal gathering with friends, and enjoy the quiet sophistication it brings.
Write a review and share your opinion about this product with others.
Just fill out the form below and click the "submit review" button.
Thank you for your effort. We appreciate it.
We'd Like to Thank You
to receive special offers & coupons! (optional)
My husband has worn Jacomo De Jacomo for about 25 years, and he still gets compliments on a regular basis. I absolutely love the scent!
Written by Becky on July 29, 2013
Read Review details ►
Jacomo is a cologne which I haven't worn in years. It is a fragrant reminder of good times, not just of memories but of the moments yet to come.
Written by Derek on May 13, 2013
Read Review details ►
Jacamo de Jacamo is the first cologne that I had bought as a young man back in 1981 and I have recieved more compliments throughout the years up to his day. I will continue o se this cologne as long as I can find it.
Written by Wren Massey on March 02, 2013
Read Review details ►
I discovered this fragrance for my husband in the early 90's and have loved it on him since this time. He uses it for Special occcasions. Love it, love it, love it.
Written by Wife, 41+ on July 25, 2012
Read Review details ►
There is a hard-core of people who use JdJ, and are totally addicted to it! I belong there. Discovered it in 1985, was hooked and have never looked back. Once, I bought the last 4 bottles at Antananarivo Airport, Madagascar in 1990. When it disappeared from the shelves, I was upset, but I had enough to keep going for about 3 years. It will remain my favourite until I die - I have just asked my son to get me five more bottles for Christmas. Amazing stuff. I check out what's written about other EDTs, but JdJ in my opinion beats them all... just look at when people got on to it - 1981, 1983, 1986, 1992, and still in love with it in 2011!
Written by TO in Accra, Ghana on July 28, 2011
Read Review details ►
Rediscovered JACOMO I wore this when i first got married 35 yrs ago. When i wear this scent my wife tells me i'm still Sexy after all these years.
Written by rick on May 01, 2011
Read Review details ►
SINCE I FIRST WORE JACOMO IN THE EARLY 80'S I ALWAYS KEEP SOME ON HAND , IT IS ALITTLE HARD TO FIND AT TIMES, BUT THE FRAGRANE IS WORTH IT--SCOYY M.
Written by Anonymous on November 08, 2010
Read Review details ►
This has been a favorite cologne of mine since I first purchased it in 1981 and I have'nt been able to find it for a long time. I am very pleased to finally locate it. I will soon be recieving plenty of compliments like I always did years ago! Thank you for having it available!
Written by Wren M. on October 06, 2010
Read Review details ►
I bought my first Jacomo de Jacamo on my honeymoon in 1981. I wear this fragrance on SPECIAL occsions...
Written by Joe P....... on July 17, 2010
Read Review details ►