write a review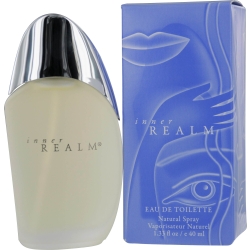 Explore Erox's Inner Realm for women and discover a truly compelling fragrance with warm floral notes of freesia, jasmine, lily and peony. These are complemented by herbaceous sage, fresh bergamot and sensuous oak moss. This subtle but fascinating fragrance, introduced in 1997, offers a clean scent enhanced by pheromones. Make Inner Realm your very own and be prepared to be irresistible. This delightful scent, sure to bring you compliments, is perfect for daytime but appropriate for anytime.
Write a review and share your opinion about this product with others.
Just fill out the form below and click the "submit review" button.
Thank you for your effort. We appreciate it.
We'd Like to Thank You
to receive special offers & coupons! (optional)
THE BEST SCENT EVER! I first discovered this scent when someone gave it to me as a gift. Every time I wore it, I got compliments. People always ask what it is. Just a little bit lasts all day. Ladies call it "pretty"; men call it "sexy". Who could ask for more?
Written by Anonymous on June 18, 2014
Read Review details ►
Very similar to the original Inner Realm, BUT the formula has definitely changed. Inner Realm has been my signature scent for at least 18 years, and I am disappointed they changed the formula.
Written by cwallswest on April 15, 2014
Read Review details ►
I have been using Inner Realm for the past 12 years, and I get compliment every time I wear this fragrance. It is very sexy and sensual. I feel alive when I wear it.
Written by Ms Greene on December 02, 2013
Read Review details ►
No other fragance can compete with Inner Realm, when out & about shopping etc it is common to be stopped by young/older ladies and asked what fragrance I am using. Inner Realm is by far the best fragance, I would be so upest if I could no longer get my Inner Realm as it always makes me feel SO SPECIAL.
Written by Helen369 on November 19, 2013
Read Review details ►
Inner Realm will smell different one each woman who use this fragrance. I first tried Realm, but I found Inner Realm and I prefer it over the original one. Inner Realm has such a more soft intense scent than the stronger Realm has. I always wear it when I want to tease may man. He likes this scent too. Inner Realm is one of my top favorite fragrances I use.
Written by Loralee on October 30, 2013
Read Review details ►
INNER REALM : the only perfume I have worn for years. I still get compliments. It is PERFECT for casual, night on the town, shopping etc. Also PERFECT for the ROMANTIC TIMES , and that special someone...
Written by Tammie on September 23, 2013
Read Review details ►
Inner Realm by Erox is intense. There is a complex blend of woods ,spice, and other things I can't decipher. Mysterious. It smells dark and sultry and a little goes a long way. Go lightly on this one.
Written by Posh7 on September 09, 2013
Read Review details ►
Unfortunately, every since the new packaging of this fragrance has been changed so has the scent itself. I had been wearing this perfume over ten years and now the scent has changed! I wish I could contact the original manufacturer because whomever is trying to duplicate this scent now is not doing a great job! :-(
Written by Too_Precious on July 30, 2013
Read Review details ►
I love this Inner Realm fragrance and am so glad to be able to get it here. I have worn it for years and nothing else comes close.I know that within a week of ordering I will have it and I cannot find it anywhere else. Thanks for carrying it and please do not ever discontinue.... I would be lost. Thanks again.
Written by Debid58 on April 22, 2013
Read Review details ►
I've been spritzing Inner Realm on pulse points since its conception. I've only received compliments from young to older women and men alike. It is a personally unique scent, that becomes 'yours' once you wear it for half an hour or so. Everyone I either work with, friends and/or family know this to be my 'smell'. I recommend it to anyone who desires their own trademark scent.
Written by Jayne on January 26, 2013
Read Review details ►