write a review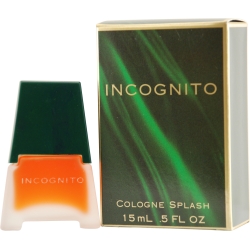 Incognito by Dana is a stunning perfume that features a floral scent mixed with a tinge of exotic fruits. These scents combine with base notes of musk and vanilla to make this a fantastic choice for the casual woman. Since its introduction in 1992, Incognito has provided women with a fragrance that is appropriate for a number of occasions. From a fun luncheon with friends to a day lounging around your home, Incognito is just the scent for you.
Write a review and share your opinion about this product with others.
Just fill out the form below and click the "submit review" button.
Thank you for your effort. We appreciate it.
We'd Like to Thank You
to receive special offers & coupons! (optional)
This perfume I find subtle for more older women. It doesn't have that flowery scent that most popular type of fragrance designer have. This perfume just wasn't "it" for me.
Written by Rocky on June 14, 2014
Read Review details ►
I love this Incoginito i have been wearing this for years the only place that i could buy it was cowtown now they dont have it please but it back in the stores
Written by EJ on May 30, 2014
Read Review details ►
I have been wearing this for over 20 years-simply love it-it goes very well with chemistry as well wearing it for all occassions! I am glad to find it here as it was hard to find and simply the store I have been purchasing from just stop carrying it. So glad to find you and carry my favorite perfume! And pay a lot less-wish I had found you sooner!
Written by oliviaswarden on May 29, 2013
Read Review details ►
I've been wearing Incognito for many years. I am always complimented on the fragrance and love to wear it every day and for every occasion.
Written by Maria on April 02, 2013
Read Review details ►
I love this fragrance incognito smells good on me ..lol I like that it smells like a musk smell to me. I wear it when I want to feel like a stallion but a female stallion..lol... the best fragnance for the best time....
Written by Taz on March 01, 2013
Read Review details ►
Incognito is by far the best fragrance for me; when wearing it, I always get compliments. Please offer A larger, size.
Written by Lynn B. on December 10, 2012
Read Review details ►
Have been using Incognito for years. Always get compliments on it. Definitely should come in a larger size. Have tried other perfumes but always come back to this one. Love it!
Written by Joanne on November 25, 2012
Read Review details ►
I love incognito and have been wearing it for over 20 years. Why can't we buy incognito in larger size bottles, when are you going to make larger bottles. Plus when are you going to start making the shower jell. Some one gave me a gift basket with the incognito perfume, bath powder, lotion and bath powder. I've fell in love with your product and was buying it everytime I saw it out in the stores and for years now I haven't been able to find it in any stores. Would you please start putting all the incognito products back in the stores. Now the only place I can get the perfume or cologne is on line. Please put it back in the stores before Christmas gets here . The gift baskets made wonderful gifts for my daughters and friends. Thanks Tri
Written by Trish Cooke on October 12, 2011
Read Review details ►