write a review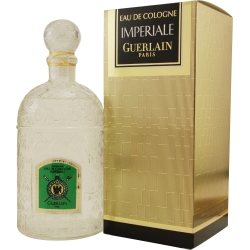 Introduced in 1853 as a gift for Empress Eugenie, the wife of Napoleon III, Imperiale Guerlain Cologne by Guerlain is a classic scent still popular with men of all ages more than 150 years later. This casual cologne combines fresh floral extracts such as rosemary with crisp citrus scents such as lime. Its light, clean fragrance makes it ideal for work, errands, or any moment when you want to add a touch of class to your daily routine.
Write a review and share your opinion about this product with others.
Just fill out the form below and click the "submit review" button.
Thank you for your effort. We appreciate it.
We'd Like to Thank You
to receive special offers & coupons! (optional)
For an elegant, well heeled man. 40+ age man. This is not for the 30sh man that wears cologne for dates. There is no musk or weird stuff that is put in today's men's fragrances. First one I bought for my husband more than 30 yrs ago and keep buying. So glad to see it her. Not a common one. Fresh, clean, love to come close to his face. For the groom, father, graduation. This man is on top of his game, honestly
Written by perfumelover on April 17, 2014
Read Review details ►
I found "Imperial" by Guerlain in the 1960's while living in old Mexico. I wear it mostly during hot weather month. The fragrance is fresh and goes anyplace. I was always splashing "4711" on me. Now I go happily with this nice scent. Both men and women would like this
Written by Rosemarie on February 21, 2014
Read Review details ►
First found this cologne when I was in my 20's. Thrilled to find it again 30 years later. Great casual-lemony citrus scent.
Written by Scott on November 20, 2013
Read Review details ►
A wonderful. classic scent. Very unlike many of the more "modern" colognes that make one smell like a field animal in heat. If heavy scents are a must, this is not for you.
Written by Anonymous on September 06, 2012
Read Review details ►
This is 3 of my favorites. 1 is royal bain of champagne, dioressence and of imperial. I wear them all the time. I get compliments all the time. U need to get dioressence back in the stock.
Written by susie v. on March 18, 2012
Read Review details ►
Imperiale by Guerlain is the ultimate "light, fresh, clean citrus" fragrance, similar to (but superior to) 4711. Makes a great after-shave ----once the skin has cooled!!--- and also seems to be favored by women who are lucky enough to wear it when they run out of Caswell-Massey's Lemon Verbena, for example. This is a lovable scent.
Written by Elegant Gent on April 29, 2010
Read Review details ►
Imperiale is delicious. Everyone should use it, both men and women...MMMMMMM
Written by Renee on September 02, 2009
Read Review details ►
Smells light, clean and sexy. Women pass then turn back and ask 'what is that you're wearing?' with a smile on their faces. Hmmmm. Good stuff.
Written by Dan on June 14, 2009
Read Review details ►
This is the classic Guerlain fragrance, created for Napoleon III and the Empress Eugenie. While it does not last as long as most scents, it does have a crisp scent that reminds me of freshly laundered linen. And, the "bee" bottle, the signature of the Bonapartes, is an added plus! I love it, and have been wearing it for nearly 40 years
Written by Noel on May 13, 2009
Read Review details ►