write a review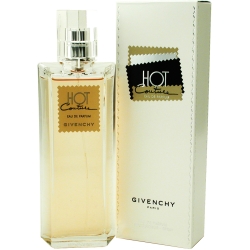 Add some intrigue to your life with Hot Couture by Givenchy. This beautiful fragrance for women is a blend of aromatic woods and spices that infuses your every move with exciting warmth. Introduced in 2000, this unforgettable scent is perfect for adding style to your casual activities, whether you are grocery shopping, meeting for coffee or eating lunch with a friend. Spritz it onto your skin before heading out and enjoy an instant touch of sophistication.
Write a review and share your opinion about this product with others.
Just fill out the form below and click the "submit review" button.
Thank you for your effort. We appreciate it.
We'd Like to Thank You
to receive special offers & coupons! (optional)
I have used Hot Couture for years and still continue to do so Itis one of my favorite scents. Always recieve comments when i use it.
Written by uva on December 11, 2014
Read Review details ►
Love this perfume, get compliments all the time, last for ours.
Written by Frannie on November 17, 2014
Read Review details ►
I wear Hot Coutoure every day when I go out ...for casual or evening and 9 times out of 10 I get a comment of of how wonderful the fragrance is that I am wearing !!!
Written by kathy on May 27, 2014
Read Review details ►
Hot Couture is a wonderful classy sent. When I tryed it for the first time, every now and then for several hours my husband would comment how wonderful it smelled. It's a parfum that makes me smile!
Written by Lisa Lisa. on May 10, 2014
Read Review details ►
I have worn this for years. When they took it off the market I was so depressed. Everyone loved this scent and asked me what it was. When I told the the name of it, people would say where do you get it and what's the name of it? I wore it to work around my dental patients and not one of them were offended. Men and women both love it. I where it seldom now because I'm afraid I will not be able to find it again, so when I do I stock up on it. Thank you so much for carrying it on your website.
Written by Linda D. Webb on January 12, 2014
Read Review details ►
It doesn't take much so easy on the spray. I love this fragrances in the winter time. It spells earthy. I get a lot of comliments when I wear. As a dancer in my early years, I would wear this and found it to last all night. Today I spray one spirt at 6:30 am and my patients can still smell it. They said "delicious!"
Written by Toni on January 09, 2014
Read Review details ►
Wore Hot Couture for the first time in a large dining hall filled with people. The waiters and waitresses kept coming up to me to ask what it was so they could tell their patrons. I've worn a lot of perfume, but never have had that reaction.
Written by JD on December 01, 2013
Read Review details ►
I have used hot couture for years. I have had soooo many compliments on this fragerance. Its lite and sutle. With they would bring back gift sets.
Written by sherrie on July 31, 2013
Read Review details ►
This is by far my favorite! I get soooooooooo many complements from men and women. Love love love it.! But please bring the body veil and lotion back.
Written by Blingbling on May 23, 2013
Read Review details ►
I love Hot Couture! I feel super sexy when I have it on.
Written by Yetunde on April 25, 2013
Read Review details ►