write a review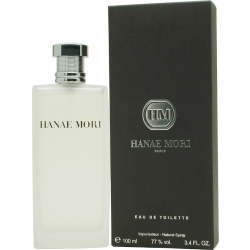 Hanae Mori cologne by Hanae Mori is the ideal daytime scent for modern men on the go. A rich, woodsy scent blends with a hint of exotic citrus undertones to concoct a spicy, oriental fragrance that has turned heads since its introduction in 1998. Whether you want to make a lasting impression while giving an important presentation at work or stand out in the crowd at a baseball game, this masculine fragrance is sure to grab attention at any casual event.
Write a review and share your opinion about this product with others.
Just fill out the form below and click the "submit review" button.
Thank you for your effort. We appreciate it.
We'd Like to Thank You
to receive special offers & coupons! (optional)
I wasn't a big fan of fragrances or perfumes (the average "axe" user) but as time passed by, (I'm mid 30's) I was really start to feel the need to have an "external" signature, something that isn't wide known or had the hype of every year's new fragrances (at the office or popular places, everybody smell quite the same). The very first day I started to wear Hanae Mori I just was the new guy almost everywhere. The fragrance stay with you for quite a long time and even when I just can't feel it on me, other people still asking me what's that I had. The fragrance keeps the same level and hasn't any strong note, for me that's the best since -at least for me- those who had strong smells just are crying for attention or following the last trend.
Written by scuevas on June 21, 2014
Read Review details ►
I first purchased this fragrance in 1967 while traveling through Bern, Switzerland. After all these years I still have my original bottle of Eau de Toilette and it seems as potent as when it was new. A very manly, substantive and original scent that is truly a pleasure to wear. A true story: several years ago while sitting at the bar in my local pub, an intensely attractive platinum blonde (who was also a CPA) came up to me and said, "So you're the one!" Apparently she caught a whiff of the Hanae Mori earlier and was intrigued enough to go searching for the man wearing it. We have remained good friends ever since. Very pleased to find this somewhat rare fragrance available on the web.
Written by Poobah on October 26, 2013
Read Review details ►
I have been wearing Hanae Mori Men's for a couple years now and really love it. I am a flight attendant, and not a day goes by without someone making a positive comment or asking the name of the scent I'm wearing. I receive compliments from men and women every time I wear it. Buy it, wear it, or give it as a gift. You'll be pleased you did. Very few seem to wear it, so not many people know/recognize it while you are wearing it.
Written by Airmanbear on August 13, 2013
Read Review details ►
one of a kind..very distinct..can not be confused w any other and the chicks dig it..
Written by Anonymous on June 24, 2013
Read Review details ►
I don't know how to classify this fragrance but I can tell you heads will turn when you're have this one on. This is more like an exclusive fragrance for me. You wouldn't want to wear this everyday. The best thing I can tell you is to buy it, owner it, and wear it. You'll be surprised :)!!!!
Written by Wise on June 21, 2013
Read Review details ►
Very disappointed . Did not recieve cologne due to postal service leaving package without signature! And someone stealing package
Written by Anonymous on June 03, 2013
Read Review details ►
Hanae Mori es una excelente fragacia. A pesar de sus años en el mercado es atemporal y sirvió como ``inspirador`` para varios perfumes. Una proyección muy buena. Todo un clásico!
Written by Sergio on May 22, 2013
Read Review details ►
I absolutely love this fragrance on my boyfriend!! It projects well and has longevity. Very nicely made fragrance!! Two thumbs up!
Written by Texas/austin/Ashley on May 16, 2013
Read Review details ►