write a review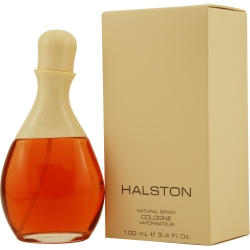 Since it was first introduced in 1975, Halston by Halston has become associated with spending time relaxing with friends or enjoying a day with the family. Many women now call this perfume their signature fragrance because it is bold but not overwhelming. A lovely blend of carnation, spearmint, cedarwood, patchouli, vetiver and peach notes, Halston lets those around you know that you value your time relaxing as much as you value your image and style.
Write a review and share your opinion about this product with others.
Just fill out the form below and click the "submit review" button.
Thank you for your effort. We appreciate it.
We'd Like to Thank You
to receive special offers & coupons! (optional)
Halston is associated with the club scene from 35 years ago but don't let that stop you from discovering this classic. A new generation of women should find this well crafted scent. Tired of the roses, citrus and vanilla that dominate the market today? The woman wearing this will stand out from the crowd a bit. People will notice her elegance.
Written by Rockegg on August 28, 2014
Read Review details ►
Halston is my favorite scent. I sometimes use others but I always go back to Halston. It is a great fragrance to wear all day and even into the evening. I also use the lotion which helps prolong Halstons scent thru out the day. I have gotten many compliments whenever I wear Halston.
Written by Lorraine G on June 22, 2014
Read Review details ►
I've worn this fragrance since the 1980s and it never gets old. I love this one and also the Halston Couture which is must stronger and always gets me compliments.
Written by Toni's Mom on June 19, 2014
Read Review details ►
I have been wearing Halston Natural Spray cologne since 1982. I love it, my husband loves it on me, and my niece says I "Smell good." My bff, who is allergic to everything, is perfectly fine around it. I have no idea how to categorize this cologne or perfume.
Written by Anonymous on June 11, 2014
Read Review details ►
I have worn Halston since it was introduced in 1975. I was 20 years old and in college. I have worn it every single day of my life since. It is my signature scent. I LOVE this fragrance! It is not too strong, but doesn't fade quickly either. It can be worn at the office, on the weekend, when going out for the evening, or just for hanging around the house. It isn't so strong that people smell me coming, but when someone is close enough that they can smell it on me, I always get a compliment. My sister had a client come into her salon wearing Halston and said she knew immediately what it was and it made her think of me. I hadn't seen her in four years, but she knew my signature fragrance immediately. It really is a classic fragrance.
Written by Gina E on April 21, 2014
Read Review details ►
I have been using Halston since I was in my 20's and I love it. I have tried other perfumes, but always go back to Halston.
Written by Patti on March 13, 2014
Read Review details ►
I, too, have worn Halston since it came out in the mid 70s. It is, and remains my very favorite scent of all time. I try others, but I have never found anything which I like as much as Halston. They used to make my favorite Halston deodorant and it was out of this world too. I wish they would bring it back. I have used the perfumed body cream, the bath fragrance, deodorant and loved them all. The scent does not fade on me like so many others do, I'll wear Halston til I'm 6 feet under
Written by Gaye on March 04, 2014
Read Review details ►
I HAVE USED HALSTON SINCE I WAS 20 AND I STILL LOVE IT WHEN THEY ASK ME WHAT ARE YOU WEARING I SAY HALSTON.
Written by BELKYS on January 13, 2014
Read Review details ►
The Halston fragrance that is currently being sold is not the same as the original fragrance from the late 1970's. The current version has much more heather and flowers. The original is more spicy and oriental. A sad loss. If I could return the new purchase I would.
Written by Anonymous on January 09, 2014
Read Review details ►