write a review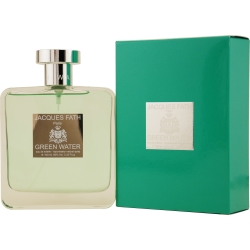 Green Water perfectly balances a strong, masculine appeal with a light, fresh, outdoor tone that's great for all kinds of daytime adventures. First introduced by Jacques Fath in 1994, this cologne has a brilliantly complex construction that combines notes of citrus lemon, orange, mint, tangerine, floral orange blossom, jasmine, oakmoss and musk. It hits just the right balance of nature and flora with a strong masculine base. This energetic fragrance is the perfect choice for the active man on the go.
Write a review and share your opinion about this product with others.
Just fill out the form below and click the "submit review" button.
Thank you for your effort. We appreciate it.
We'd Like to Thank You
to receive special offers & coupons! (optional)
For me green water is the best perfume there is. The scent is so refreshing. It is like coming out of a shower and so manly. It gives me alot of confidence everytime i use it. I love Green Water by Jacques Fath
Written by John A. on December 29, 2013
Read Review details ►
I chose this scent, as the House of Fath is well known for design , like the House of Chanel. I like to go with a old, established scent. I wear this for special evening events.
Written by Pippo on September 17, 2013
Read Review details ►
I purchsed this in Paris also. It's a wonderful scent. I'm happy to see that I can get it in the U.S. now.
Written by gembearn on February 03, 2012
Read Review details ►
I was introduced to Green Water in 1970. At that time the only place you could find it was Bergdorfs in NYC, then later at Jacqlines in SF. Even trying to buy it in Paris was a challenge. It is nice to have a source for my favorite fragrance. Thanks
Written by Terry S. on August 08, 2010
Read Review details ►
I absolutely love this fragrance. It's perfect for a casual wear. I hope this product is never discontinued.
Written by ~Rick~ on June 10, 2010
Read Review details ►
I FOUND THIS SCENT IN PARIS IN THE 1960'S AND HAVE USED IT EVER SINCE. FOR ME, IT'S THE BEST -- NON PERFUMY AND TART.
Written by FRITZIERITZ on April 13, 2010
Read Review details ►
My Mom gave this to me over 40 years ago for a birthday present. I thought it was off the market. So glad to find it again. Each time I use it brings bach some wounderful memories. Not only is it my favor it, it brings me back to my wild and crazy youth!!
Written by CHARLES PHILADELPHIA on February 19, 2010
Read Review details ►
I purchased Green Water and I loved absolutely love it. I will continue to purchase other fragrances. Thank You so much Rick
Written by Green Water on January 24, 2010
Read Review details ►
My husband found Fath - Green Water in France in the late 70's and has been using it ever since. This is the only place we can find it. He is now in a nursing home but every time we spray him with it, he gives a great, big smile. Thank you for still offering it to us. You make his day brighter. M.A. Gambardella, New York, N.Y.
Written by Marion A. Gambardella on December 08, 2009
Read Review details ►
I have used this fragrance since the early 1970s. I though Green Water had been discontinued but I am pleased the new incarnation is just as wonderful as the old. Thanks!!
Written by Bill on October 13, 2009
Read Review details ►