write a review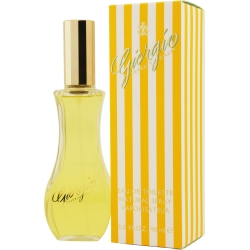 Giorgio by Giorgio Beverly Hills is a fragrance for women who want to make a stylish statement. Since its introduction in 1982, this fragrance has been a popular choice for women who are spending the day with friends or family. While the fragrance makes a bold statement, it isn't overpowering. The blend of amber, jasmine, flora bergamot, moss, musk, sandalwood, cedarwood, mandarin, carnation and rose combines perfectly to make a signature scent that others will quickly come to associate with you.
Write a review and share your opinion about this product with others.
Just fill out the form below and click the "submit review" button.
Thank you for your effort. We appreciate it.
We'd Like to Thank You
to receive special offers & coupons! (optional)
Giorgio smells like a smile- - - puts me in a good mood !
Written by greycatt55 on November 20, 2014
Read Review details ►
Ok....been wearing this "perfect for me" perfume since it came on the market. Truth.....everyone I meet always asks me what perfume is that? You smell wonderful. Just last week a woman asked me what was that wonderful perfume I was wearing. I can't say enough about Giorgio perfume. I love, love, love it. Of course a perfume has to blend or agree with your body chemistry. I just lucked out!!!!! But, please give it a try if you are new to it. Hopefully, your body chemistry will go perfectly with this perfume.
Written by Sandra J on November 10, 2014
Read Review details ►
I just love Giorgio. I always have it at home. Have received so many compliments when I wear that scent. I llike the price and the service I received. It was a win win situation for me!! Thank You
Written by Anonymous on May 15, 2014
Read Review details ►
I was given a bottle of Giorgio for Christmas 1982 and left for an extended Europe vacation the next day taking it with me... it was noticed everywhere i wen: Frane Germany Switzerland etc and it brings me back there every day! It is now my signature and my kids will spritz it on something when i visit from Alaska to remember me! I love it!!
Written by Joanne on May 04, 2014
Read Review details ►
I have worn this perfume for years. I forget I have it on and have gotten compliments at the end of the day. This is a scent on me that I do not smell but others around me do. I like the layering of the body wash, lotion and then the perfume or a lasting smell. This is just my scent.
Written by yvette on April 26, 2014
Read Review details ►
I only got the sample; not really my scent as it has that "old lady" vibe to it.
Written by Amani on February 05, 2014
Read Review details ►
I have worn Giorgio Beverly Hills for at least thirty-five years. It is the only frangrance my husband cares to smell on me. Every-single time I go out I receive at least one compliment on the fragrance that I am wearing! My Sister introduced me to Giorgio and for that I thank her!! And of course thank you for making it!
Written by LavenderandLace on February 02, 2014
Read Review details ►
I LIKED IT. IT WAS VERY NICE. I REMEMBER THIS FRAGRANCE FROM BACK IN THE DAY, BUT I NEVER TRIED IT. I JUST GOT A SMALL ONE, BUT I WOULD BUY A LARGER ONE NEXT TIME.
Written by MISS. THOMPSON on January 20, 2014
Read Review details ►
Honestly I don't know if you would classify this as outdoor or floral...almost every scent I have tried has elements of different things. Giorgio is lovely, light but sustains well, and for me a classic scent. I bought a bottle most recently as a gift to my friend's daughter as a stocking stuffer; but I keep some on hand for me :)
Written by Linda on January 01, 2014
Read Review details ►
Giorgio by Giorgio Beverly Hills is so good! This is the first time I've tried this perfume and I LOVE it. I remember smelling it on someone about 20 years ago and I liked it, but it was always too expensive. I saw it here at a good price so I thought I'd try it. I am SOOOOOOO happy I did! I really love this perfume. It smells kind of fresh.
Written by Anonymous on December 23, 2013
Read Review details ►