write a review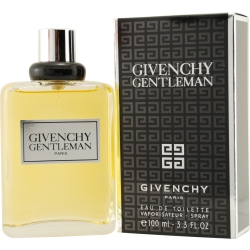 Delight the one you love with the scent of Gentleman by Givenchy. Introduced in 1975, this elegant men's fragrance has a masculine, woodsy scent with aromatic top notes of spice. Lower notes of rose and leather help create an aroma that is classic and alluring. Use this cologne before a romantic dinner to give the evening a feeling of sophistication and enchantment.
Write a review and share your opinion about this product with others.
Just fill out the form below and click the "submit review" button.
Thank you for your effort. We appreciate it.
We'd Like to Thank You
to receive special offers & coupons! (optional)
Givenchy's Gentlemen is truly one of my favorites. Used this fragrance since the early 80's and I always look for it. I've tried many fragrances over the years' and have favorites, however Givenchy's Gentlemen tops them all. Hard to find and truly a masterpiece. Always have positive comments and it wears well. Love to add a sprit to my bedding for a lasting effect. Please never stop creating this all time favorite Mr. Givenchy! Larry Stroud North Carolina, USA
Written by Larry Wayne Stroud on July 09, 2014
Read Review details ►
I thought I would really love this scent on my husband. I bought it as a gift... Really smells bad. I was soooo disappointed, because I love Givenchy. Sorry Givenchy! Not this time!!! I still love you though :-)
Written by Mrs. Wesley on April 08, 2014
Read Review details ►
My husband uses this frangance since his early adulthood and won't change it for nothing. I bought other fragances in the past for him to try something new, but no way. He also uses Givenchy by Givenchy for more casual activities.
Written by Mil on April 01, 2014
Read Review details ►
I'm offering a minority review, but I bought this cologne based on recommendations and it is just not a cologne you can wear often, at least not me. It is 40 years old and maybe this passed for "elegant" in the 70s, but it is just too flowery and pungent. The top note is sugar, flowers and spice, then it settles down to a strong rose, cedar mix - like a rose kept in an empty cigar box. Even the positive reviews mention the flowery character, but it is hardly fresh, it travels up your nose with all the subtlety of a tooth pick. My review will hardly dampen the enthusiasm of its many followers, but if you're on the fence, this this is a VERY strong and flowery scent, like a funeral wreath.
Written by GDS on February 22, 2014
Read Review details ►
I really like this cologne, and so does everyone I`m around during the day.....I don`t know how to describe how it smells, I just know everyone seems to like it......I`m almost seventy, and the ladies seem to really enjoy it as well......Can`t say I`m interested in the way they notice me, but it does feel good knowing others like the way you smell....I hadn`t tried Gentlemen, until lately, but will get it again, when what I have now is close to gone....
Written by glee on February 16, 2014
Read Review details ►
When I wear Givenchy Gentleman I not only feel clean I smell clean. People always have great comments when I am wearing it. Became a fan the first time I put it on over 30 years ago. Does not take much and your good all day. This one tops my list of favorites.
Written by WDW on December 03, 2013
Read Review details ►
I've been wearing this fragrant since the seventies, and have been wearing it still today. Have been approached by both woman & men wanting to know the name of the cologne. Whats really fabulous about it, it stays with you for a very, very long time, I have taking my suits to the dry cleaners, and you can still smell the fragrant on the clothes.....WOW!!!!!!
Written by Bigphella on August 28, 2013
Read Review details ►
I have been wearing this I was a young adult and nothing has ever compared it's brilliant sensory capabilities. It is spicy yet deeply woody with a fresh end note. It has more of the essential oils in it than your cheaper colognes so it lasts longer than many. Not many people know about it and it can't be purchased at drug stores or discount stores, making it a rare scent in the world of cologne wearers.
Written by Johnny on August 22, 2013
Read Review details ►
I love this one, very masculine, romantic, classy, a real master piece. Thank you Givenchy
Written by My signature fragance on June 12, 2013
Read Review details ►