write a review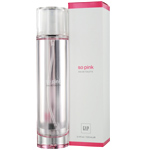 Gap So Pink, by Gap, is a womens fragrance that's sure to get you some fun and flirty attention wherever you go. This fresh citrus scent took to the fragrance stage in 2001, combining beautifully with notes of lily and sweet pea, with musk playing a much-needed base note to avoid anything too sweet. An ideal choice as a daytime perfume, Gap So Pink lets you indulge your girly side while you get on with your day.
Write a review and share your opinion about this product with others.
Just fill out the form below and click the "submit review" button.
Thank you for your effort. We appreciate it.
We'd Like to Thank You
to receive special offers & coupons! (optional)
This is my signature scent. I hope you never discontinue it. I usually wear it in the summer when it is hot due to the fresh, crisp scent. I like a bit heavier scents in the fall and winter.
Written by Lora on September 24, 2013
Read Review details ►
I have worn this fragrance for a long time. I love it, everytime I switch to something new I always go back to So Pink. I have worn more expensive fragrances and never had I received more compliments than I do with So Pink. Guys love it! And ask me all the time where did I get it, and people always say you smell sooo good, or someone smells good. I was in a sandwich shop and the guy behind the counter said someone sure smells good today. LOL! and he was slicing meat all day. LOVE IT!!!
Written by KatKat on August 07, 2013
Read Review details ►
Excellent Fragrance, Excellent service and delivery even in Canada! Wow i am impressed! Simon from Montréal, Qc
Written by Simon on December 20, 2012
Read Review details ►
gap so pink got it for my birthday and used it up love it. been trying to get more the stores didnt have any more for a long time. glad i was able to find it on line. nice scent like grapefruit. will open your sense of smell put a smile on your face.
Written by tweety pink on August 05, 2011
Read Review details ►
i love so pink by gap. i was looking for the perfect scent for the longest time and in the end it came down to chanel's chance eau tendre and gap's so pink. i chose so pink and i'm so glad i did
Written by somnium pacem on May 31, 2011
Read Review details ►
so pink is my favorite fragrance makes me feel clean and fresh all the time . women have ask me what perfume im wearing because smells good . I love it have been wearing it for the last 6 yrs and will never get tire of it. I go to san antonio to get it and it's far from where I live. never get rid of this fragrance. thank you Ellie.
Written by Ellie Colomo on May 23, 2011
Read Review details ►
This scent is so nice. This smells like a sweet pink grapfruit.. it's one of my favorites
Written by ThaiRican on November 11, 2010
Read Review details ►
Very nice citrus scent. You can especially smell the grapefruit.
Written by Ondy P on May 27, 2009
Read Review details ►
My first parfum and I'm so happy with it, it's great!
Written by Finka on January 13, 2009
Read Review details ►
Absoloutely delightful....Both men and women have asked me what i am wearing, it seems to appeal to all..Even people coming into elevator will say" someone smells so good"..Clean and appealing!!
Written by Christina on August 10, 2007
Read Review details ►