write a review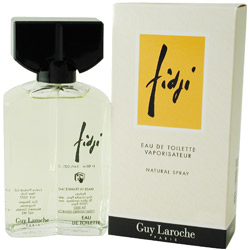 Bring a sense of exotic locations to your day with Fidji by Guy Laroche. This delightful fragrance for women blends scents of hyacinth with lemon, bergamot, carnation, jasmine and rose. Introduced in 1966, this playful daytime scent can help you discover the joy in everyday activities. Splash it on your skin before you leave the house in the morning and enjoy the way it brings a sense of wonder and mystery to your activities at work and at play.
Write a review and share your opinion about this product with others.
Just fill out the form below and click the "submit review" button.
Thank you for your effort. We appreciate it.
We'd Like to Thank You
to receive special offers & coupons! (optional)
Worn Fidji for decades. Still my favorite. Light floral w/jasmine and orange. Very clean and fresh.
Written by mm on July 27, 2014
Read Review details ►
Fidji was one of my very first scents given to me by my husband many years ago. Once the bottle was empty I never renewed it. Now, I wonder why. This scent is just Devine. Light to wear and not over-powering. I read a review that it's not like the older version, but I disagree. It's a hard to find perfume because I guess people shop for the latest and greatest. However, this fragrance is a well kept secret, and I hope you will not hesitate to try it. I am certain you will not be disappointed. When a spray it on, I instantly feel just lovely.
Written by Tracie on July 06, 2014
Read Review details ►
I have been wearing Fidji for more than 40 years. I've never grown tired of it's scent and it makes me feel beautiful. The scent always reminded me of my interior decorator, Aunt Irma, who had impeccable taste. It also reminds me of the Easter Lily in spring. I love this fragrance and you will too.
Written by Marie, Lansing, MI on May 29, 2014
Read Review details ►
One whiff and I return to Paris, in 1971...I had enough European friends for about a decade who could send it. Then zap...nowhere. Thank you, Fragrance Net, for making it possible to buy it here. It has a light, sophisticated aroma with a subtle white floral top note. It will surprise you (or someone) when you turn, or extend your hand, or have your next-to lean to whisper something to you. Try it now: you won't find it just anywhere, and it won't overpower a room with heavy sweetness. You owe it to yourself.
Written by Katya on April 10, 2014
Read Review details ►
It's great to be able to purchase Fidji at fragrancenet. I wasn't able to find it at stores for years and now I can wear it again. To me, it is the King of florals, rich and feminine, noticed by people around me.
Written by Catherine on January 08, 2014
Read Review details ►
This Fidji is nothing like the original back when I was young (early 1970's) and used to spray it on at the store. Then, it lasted forever and was absolutely intoxicating. Lingered on your clothes and smelled delicious. This isn't even close to the original. Don't waste your money. Very disappointed.
Written by Jane G. on December 24, 2013
Read Review details ►
I have worn only Fidji since 1971. I wear it every day. Everyone identifies me by the scent, and when my grown children hug me they say, "hmmmmmm, you smell so good, just like my Mom", and they are in their 30's. It is a light scent but so wonderful. Whenever I have tried to wear a different scent, I keep looking around to see who smells like that. I buy it on line all the time and keep a supply "just in case".
Written by Malloo13 on October 30, 2013
Read Review details ►
I love Fidji! I agree with other reviewers that it takes me back to the '70's and happy memories -- some are of being told how good I smelled! ha I love the hyacinth note.....I can smell like springtime anytime of the year. Just a classic lovely light, clean fragrance.
Written by OKRed on October 02, 2013
Read Review details ►
Love this fragrance-Fidji-It was priced so reasonable that I could not believe it-I received my item fast, which pleased me and because of that I will continue to buy from this company. This fragrance is so sexy and it makes you feel romantic and beautiful at the same time. I just love, love, love it.
Written by Manon on September 01, 2013
Read Review details ►
I absolutely adore this fragrance--Fidji! Very hard to find and usually very expensive, I was so excited to be able to find it and afford it once again. It is perfectly feminine and engulfs my senses with pure pleasure and bliss. I'm always complimented on this fragrance and have been told by men and women just how beautiful this smells. Anyone can enjoy the wonderful experience of wearing the exquisite Fidji. If there was only one fragrance in the world, I'd want it to be FIDJI...
Written by Sandy in Tucson on July 12, 2013
Read Review details ►