write a review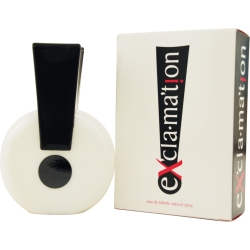 Made with the casual woman in mind, Exclamation by Coty is a perfume featuring a mix of amber, apricot, peach and sandalwood notes to create a fragrance you won't soon forget. Since its introduction in 1988, Exclamation has provided women a scent suitable for any number of casual events, from an afterwork drink with friends to a morning brunch with family. No matter where it's worn, this perfume is a great way to make an impression.
Write a review and share your opinion about this product with others.
Just fill out the form below and click the "submit review" button.
Thank you for your effort. We appreciate it.
We'd Like to Thank You
to receive special offers & coupons! (optional)
I have wore exclamation for years n I love it . It makes me smell wonderful lady's always ask what I'm wearing n men tell me how nice n sexy n sweet I smell. My husband loves the way I always smell.. My little boy says that nobody smell so nice like he's mother.. Exclamation is my trade mark, no body at my job smells like me...
Written by Rosa P.. on July 10, 2014
Read Review details ►
I love this exclamation I been using it since 1988 n I always get complements on how nice I smell and how after I left the room or the hall ways they can smell me all over my house n at my place of work, I also been told after I hug some one my cologne stays on them and people love it.. I love it because no body else smells like me.. I love my exclamation it lifts up my mood it makes me smell beautiful I have tried different colognes n my little always tells me to go back to the white n black bottle , he loves how he's mom smells...
Written by Rosa pacheco on June 29, 2014
Read Review details ►
Love explanation been wearing it for years gorgeous it has a gorgeous sent ladies do not hesitate to buy you will not be disappointed!
Written by Renee from Brooklyn New York! on June 10, 2014
Read Review details ►
A friend of mine turned me on to this cologne in 2007 and I just love it. It is not strong on the floral scent or the woodsy either. At first, I also thought it had a light powder scent making a person feel refreshed. Just my opinion ladies. .
Written by Roxanne on February 05, 2014
Read Review details ►
I received this on my 15 bday. That was many many many moons ago. Now my 13 year daughter ( by the way isn't the girlie girl) wears this and loves it. She is very picky and doesn't like strong scents. And prior to this never wore any perfume. She loves it just as much as I did back in 1990!! Only one problem, my 10 year old daughter found this gem, and now there always drama over who's it is!! Ha ha. At this price, am buying each one a gift pack!! :) Scents are clean, and somewhat lasting!! Recommend for any age. Yes I too steal a spray one in a while when am out of my Halloween cologne!!
Written by Hot momma on November 15, 2013
Read Review details ►
Just as I remember it from over 20 years ago, exclamation certainly has stood the test of time. A versatile scent for any age, any occassion. One of my all time favourites, I love it!
Written by Leisa on August 27, 2013
Read Review details ►
I have wore Exclamation for years and I just love it. Plus the price was great and the service was awesome. I would recommend anyone to our from here.
Written by Kathy on July 24, 2013
Read Review details ►
I "discovered" Exclamation when it first came out, oh... 30 years ago? I was in my mid-30s then, now I'm in my mid-60s, and it's just a pleasant now as it was in the 1980s. It's slightly floral, slightly musky, slightly woodsy and I wear it every day, to every event. I've tried other scents and none ever seem to blend with my personal chemistry like Exclamation. I recommend it to anyone from mid-20s and up! Daytime, work, play, evening - I have received compliments over the years no matter where I wear it and when. My two horses recognize my scent, too!
Written by QuarterHorse Grandma on July 15, 2013
Read Review details ►
I have a classmate who's obsessed with fashion from the 80's even though we weren't born in that time. My mom introduced her to Exclamation by Coty and she went wild over it. She has been using it since her teen years and now all my other friends started buying it.
Written by An 80's fashionista on July 03, 2013
Read Review details ►
I remember this scent on a woman I used to date , I was 22 and she was 34 ,and she wore this scent all the time and I loved it, this perfume is a sure winner in my opinion
Written by NRE1012 on May 12, 2013
Read Review details ►