write a review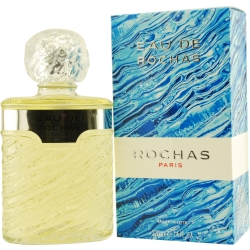 Eau de Rochas by Rochas is a distinctive fragrance for women that was introduced in 1970. Scents of fresh and fruity woods mingle perfectly with flowers and moss for a lovely blend that is sure to turn heads. When you apply Eau de Rochas before an evening event, enjoy the burst of energy and femininity it brings you. This delightful scent will last through a first date or a night on the town with friends.
Write a review and share your opinion about this product with others.
Just fill out the form below and click the "submit review" button.
Thank you for your effort. We appreciate it.
We'd Like to Thank You
to receive special offers & coupons! (optional)
Yes, I have worn this for years as well... First in 1975... then every time I traveled, or someone traveled, picked it up for me. I was so glad when it became available in US. It's the only fragrance I ever wear and find nothing to compare. Long-lasting, fresh. It reminds me of everything good. Beautiful memories. Why wouldn't I keep wearing it? Day or night. Thank you...and please keep it in stock forever
Written by A.1949 on May 26, 2014
Read Review details ►
I have worn this fragrance for ever. Never tired of it. For a while I could not get it in stores anymore, until Idiscovered Fragrancenet. My family in France wears lt and it brings back old memories. I love it because it is very light and discreet. Thank you Fragrancenet
Written by Cicine on May 01, 2013
Read Review details ►
I found this scent in Rome, Italy when I was 19 years old in 1967 and have loved it ever since. For years after I returned to the US could not find it, had a friend who flew bring it to me from France. Returned to Rome when I was 50 and found it again at another friends Profumeria, she would get it each time I visited which fortunately was a few years, and have used it ever since. To say I love it would be such an understatement, it has memories associated with it that I have treasured my entire life.
Written by Mary Alice on April 24, 2013
Read Review details ►
I have worn EAU DE Rochas since 1978 when it was first brought in to Canada through Eatons. Originally I found it in 74 in Quebec City left behind by a guest from France. Once found in Canada the scent has become my signature. I use the body lotion bath and shower gel and at times I've even found shampoo and soaps. The thing I like best about it is that every time I put it on it brings back really good memories of people places and things from my past. It's always been a comfort for my family...we live apart over the world and when they smell the scent then I'm just near by for them.
Written by Catherine on July 28, 2010
Read Review details ►
I've worn this remarkable fragrance, Eau de Rochas, for over thirty years. I would describe it as fresh and upbeat in its high notes and sweet, complex and sophisticated, but not cloying, in its lasting form. One by one I've weeded out 'replacements' for this fragrance; yet this one remains classy and timeless, fully capable of making the transition from fresh, light and citrus-airy to elegant, romantic and feminine in one sweeping spray. Originally purchased as a summer fragrance in the early 1970's, in the less heavily-scented environments of today, it's light enough to wear year 'round in all but absolute scent-free environments.
Written by Anonymous on July 24, 2008
Read Review details ►
A fresh, elegant and complex scent, woody, fruity, with an undertone similar to incense. It smells wonderful, very classy and never sweet or cloying. One of my favorites, great with tweed skirts and silk blouses :)
Written by beautifulady2003 on August 07, 2007
Read Review details ►
Three generations of our family wear Eau de Rochas. It's light and crisp citrus fragrance is not sweet or tangy. It seems to have a good scent life. It's so nice to give someone a hug and have this gentle and elegant scent whisper that you have been close. It's wonderful with wool sweaters or whispy dresses and is a great pick-me-up for starting the day or refreshing the afternoon. It is difficult to find this scent in my California stores and am glad to find it FragranceNet.com
Written by Christine K. on January 05, 2007
Read Review details ►
This is a citrus scent for those that do not like orange in the mix. It is a light fragrance, crisp even, but dries to reveal a warm and feminine scent.
Written by Anonymous on July 10, 2006
Read Review details ►