write a review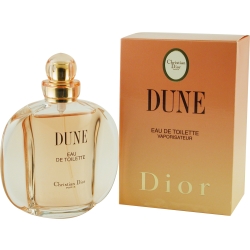 Cover yourself in the sensual scent of a walk by the ocean with Dune by Christian Dior. Since its introduction in 1991, women everywhere-and the men around them-have enjoyed the cool scent of Dune. Dune combines amber and wallflower with the watery notes of sweet, cool sea air to create a fantastic fragrance perfect for use throughout the day. Liberally apply to your neck or arms and feel prepared to confidently face any challenges throughout the day.
Write a review and share your opinion about this product with others.
Just fill out the form below and click the "submit review" button.
Thank you for your effort. We appreciate it.
We'd Like to Thank You
to receive special offers & coupons! (optional)
I'd worn Dune for years and just went back to it. I'd forgotten just how much I liked it! It's still got the original smell so, nothing has changed. It's a noticeable scent, so be careful wearing it in the office, go light, I prefer it in the evening, and in the fall and winter months, it's "warm" to me.
Written by Amy on April 03, 2014
Read Review details ►
Dune- Great for a black tie event or a night on the town.
Written by Lia on February 14, 2014
Read Review details ►
I have worn this as my signature fragrance for 20yrs. I love it. Its good for casual, work and play. Its worth it to buy and wear it you will love it...
Written by Beth on January 18, 2014
Read Review details ►
I have been wearing Dune since it first came out and I adore it. It makes one feel wonderful wearing it. It makes one feel so very attractive, sensual and sexy and it is uplifting too. Whenever I want to feel better or at bedtime, I just dab a bit of the scented body lotion in the nape of my neck and on my temples and I feel deliciously fragrant. I have never received as many compliments with any other fragrance,. Dune is my special aroma, it is me. I positively adore it and hope it is never discontinued.
Written by Bonnie on December 08, 2013
Read Review details ►
I just met Dune (body cream) since 1997. My husband was working abroad and brought me one. It was the first time wearing it and when it ran out, I was looking for it here in my country Kiribati but it did not exist. Today its my lucky day, I met this web site and glad to see that it available on, the fragrance of this body cream reminds me alot. However, this is the first time to be in this web site and looking forward to order from you soon.
Written by Matereta Batiua on November 18, 2013
Read Review details ►
I discovered Dune by accident when It first came out and have been in love with it since! I will not use any other and if I have to wait for it I go without. The ordering was easy and delivery was quite fast. I will continue to buy from this site
Written by kathie on August 14, 2013
Read Review details ►
Love Dune! It's my signature scent. Mature but exotic. Spicy and sophisticated. Not what I'd consider a floral scent. Impossible to find in most department stores so being able to buy it online is great.
Written by Leslie on July 10, 2013
Read Review details ►
Dior Dune is an excellent fragrance. I read that Kate Middleton wore it. It's very relaxing and like no other fragrance. The bottle has received an award I read. It has patchouli and woods and I enjoy wearing it when I'm relaxing at home and it's good for a night on the town. I don't wear it at work since it's projection is good, but the perfume's strength may not be appropriate at work. My husband likes the fragrance as well. It's a good scent when you want a change from fruity florals. I don't see a pre-teen or teenager wearing this scent. It's a perfume worthy of the Dior name and one of the best ones out there. I recommend it.
Written by Anonymous on June 29, 2013
Read Review details ►
I have enjoyed Dune and the smell is nice. Can be worn anytime but for me scent doesn't last very long. Nevertheless i will continue to buy it.
Written by bigcissy on June 11, 2013
Read Review details ►
Received Dune right on time. This is my very favorite fragrance of all time. I hope they don't stop makling or selling it.
Written by Anonymous on May 31, 2013
Read Review details ►