write a review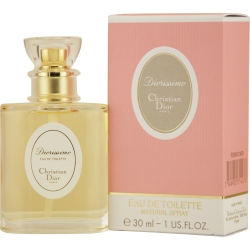 With its mix of lily of the valley, jasmine and ylang-ylang scents, Diorissimo from Christian Dior is a women's fragrance that is the right perfume for your next daytime excursion. Since 1956, Diorissimo has provided women with a timeless scent that is subtle, yet alluring enough to turn a few heads. It is just what you need for that next social outing with your friends or for an afternoon out and about with your entire family.
Write a review and share your opinion about this product with others.
Just fill out the form below and click the "submit review" button.
Thank you for your effort. We appreciate it.
We'd Like to Thank You
to receive special offers & coupons! (optional)
This Was The Signature Scent Of Princess Diana. Lady Di's Favorite
Written by Sangiovanni on May 15, 2014
Read Review details ►
Diorrissimo is that scent; subtle yet unforgettable. It is a family tradition with me handed down from my mom. I have to be very careful with perfumes and their ingredients as most of the perfumes on the market have a certain base or ingredient that induces migraine for me. The ingredients in Diorrissimo however, not only creates that nice floral scent most of its users are addicted to but also it does not have that adverse effect for smell sensitive people like myself. I've introduced quite a few friends to this perfume and they are all hooked up on it. Thanks CD for keeping its quality for this long this good!!
Written by y_mullen on February 16, 2014
Read Review details ►
Diorissimo is a fragrance I remember from the time when I was young. Lily of the Valley is known as Maigloeckchen in Germany since the blooming time is May. It is used in bridal bouques. It blooms in my Dad's backyard. I always loved the smell. The perfume captures it perfectly. After all those years it is still one of my favorites. Glad Dior still makes it.
Written by Gitte on January 01, 2014
Read Review details ►
I have been trying for over four years to remember the name of my favorite perfume that I wore from age 13 to it ran out in 1984! I lost track of it anywhere in the states to buy my beloved fragrance so I tried Chanel No.5 but it just wasn't the same. Today for some reason I decided to try to think of the name again and it came to me, Diorissimo I jumped for joy and was so thrilled that I couldn't even get my usual nap in with my husband. I wore this perfume when it was given to me as I became a primo ballerina at the Louisville Ballet. It so far is the ONLY perfume that mixes with my aroma to be so pleasant that people have stopped me in the street to ask my scent! I shall never be without my beloved Diorissimo again!
Written by Miriomnibus on October 08, 2013
Read Review details ►
This is a really gorgeous scent. I thought it would be too much lily for me but muguet de bois is a much lighter lily scent than the larger versions of the flower. Also, this classic scent is blended with other lovely, soft white florals. I was very pleasantly surprised how beautiful this is and will be wearing this lovely scent this spring and summer.
Written by StyleMavenFla on May 17, 2013
Read Review details ►
My all time favorite. My signature fragrance. It is timeless and subtle. Diorissimo is the best of the best and not everyone can wear and carry this scent with their own skin pheromones. I even spray it on my pillow at night as my husband loves the scent in my hair. A timeless classic. For the person in life who appreciates the finer classier things in life.
Written by Marnie on March 24, 2013
Read Review details ►
I love the scent. It can be worn any time, any where.
Written by yaya on November 16, 2012
Read Review details ►
I have been wearing Diorissimo since the 1960's when I was a Flight Attendant based in Miami. Got to fly down to the Islands and get it at a substantial discount. Never could find anything to compare with the lovely, soft scent of this floral scent. Hope they never discontinue it because it's the ONLY scent I wear!! Always get compliments when wearing it!
Written by FLFaith on May 27, 2012
Read Review details ►
I have loved this scent for decades. This is timeless classic. Like Grace Kelly and Jackie Kennedy. Class never goes out of style and Diorissimo will never go out of style. Classy, feminine, not over powering and alluring. Like a beautiful strand of pearls that doesn't go out of style. LOVE IT......I have stocks of it in my drawer. It's like a gorgeous blonde in a black dress with a strand of pearls and this lovely scent. Typical Grace Kelly
Written by Natalie on December 04, 2011
Read Review details ►
One of the most perfect summer scents ever designed. Just lovely.
Written by Sophia Christina on December 03, 2011
Read Review details ►