write a review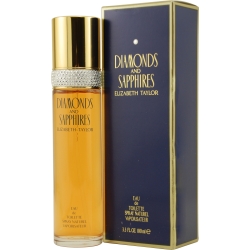 Spread the sweet smells of spice and florals wherever you go with Diamond and Sapphires by Elizabeth Arden. Introduced in 1993, this fragrance bouquet offers the sweet notes of lily of the valley ylang-ylang and roses against the subtle tones of jasmine and other spices. This daytime floral fragrance is wrapped in a hint of musky sandalwood that appears as a subtle afterthought in the scent combination. Let a spritz of Diamonds and Sapphires perfume for women spread its spicy floral bouquet throughout your workday.
Write a review and share your opinion about this product with others.
Just fill out the form below and click the "submit review" button.
Thank you for your effort. We appreciate it.
We'd Like to Thank You
to receive special offers & coupons! (optional)
Elizabeth Taylor's DIAMOND'S & Sapphires has been my most favorite fragrances, for the special occasions. My husband gave me this as an anniversary gift in 1994 and I have been wearing "Diamonds & Sapphires" since then. It's my church perfume!. I receive lots of compliments everytime I wear it that I smell so pretty... hope to keep in stock with this fragrance.
Written by Krazy on January 19, 2014
Read Review details ►
I love this perfume and have been looking for it for a long time. I get a lot of compliments when I wear it. The price was great and so were the free samples. Diamonds and sapphires
Written by V on October 10, 2013
Read Review details ►
Diamonds and Sapphires is great any and everywhere wear so try urs today. You will love it. Promise.
Written by sara on January 09, 2013
Read Review details ►
i wore white diamonds and sapphire to work and everyone said i smelled so good and asked what i had on. i love it when others like my perfume. i love this and it is the first time i have had it.
Written by Jennifer Cummings on September 27, 2012
Read Review details ►
This is a very light smelling fragrance. I love the smell.
Written by Judy on September 11, 2012
Read Review details ►
I just received Elizabeth Taylors Diamonds and Sapphires. I have never tried it before and I really like the scent!! It has that smell of sandlewood and musk that I really love. And the most important part is that my husband likes it too!! Thank you Fragrancenet for the great price and great service!!
Written by Marianne on September 16, 2011
Read Review details ►
I wore this fragrance in the summer. For me, "it is summer", I find that it is always soft, always elegant and somehow always works. It changes with the tempature and during the day. Sometimes, it smells floral-sometimes it smells like a spicy summer night.
Written by Jennifer on September 11, 2011
Read Review details ►
I discovered LIZ TAYLOR's "DIAMONDS & SAPPHIRES" A COUPLE OF YEARS, AGO, IN SUN CITY (RIVERSIDE COUNTY, CA.). FELL IN LOVE WITH IT, INSTANTLY! I HAVE STOCKED UP on it, so that I WILL NEVER RUN OUT!!! IT IS COOL, SUBTLE, DELICATE, UNDER-STATED--BUT VERY SOPHISTICATED, and *ALLURING*. NOT FOR "TEENY-BOPPERS". ONLY FOR *MATURE* WOMEN. IT IS A "(ROMANTIC) 'Floral'", BUT NOT OVERLY "FLOWERY". As one poster said:YES, IT DOES REMIND ME OF WALKING IN A FRAGRANT GARDEN, PERHAPS, AFTER A LIGHT RAIN--OR, A DEWY MORNING--BUT--you can ACTUALLY WEAR IT--FROM EARLY AFTERNOON, UNTIL AFTER DARK. MOST APPROPRIATE FOR LATE SPRING THROUGH OCTOBER. (IN ONE WORD: "DEEE-VINE"!!!).
Written by cc1 on September 06, 2011
Read Review details ►
OMG This makes my man nuts!!! I was 13 when I first smelled this perfume and I could find it for the longest time and I found this website and order at least two boxes a year!!! Smells so wonderful!
Written by taupier5 on June 23, 2011
Read Review details ►