write a review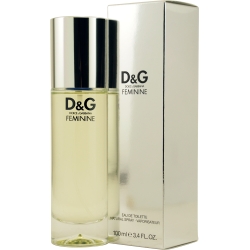 Exude an air of romance and confidence with D & G Feminine perfume for women by Dolce & Gabbana. The top notes mix water lily and white cyclamen fragrances with tangy tangerine for a light, airy scent perfect for a romantic interlude. Floral middle notes of heliotrope, lily and mimosa mingle gently into the fragrance, giving it a carefree and sweet feeling. Introduced in 1999, D & G Feminine provides a clean, flowery scent that fits well with an evening of romance.
Write a review and share your opinion about this product with others.
Just fill out the form below and click the "submit review" button.
Thank you for your effort. We appreciate it.
We'd Like to Thank You
to receive special offers & coupons! (optional)
I bought D&G Feminine on my first cruise in 1999. I believe it had just come on the market. I absolutely love it, and received compliments on it almost daily. Please let me know if it comes back in stock, or where I can e-mail someone to request they market it again...haven't found anything else like it:(
Written by Susan on June 28, 2012
Read Review details ►
I absolutely love Feminine. The scent is light and fresh and last all day until you shower. The fragrance is wonderful and everyone loves it. Someone once told me it was intoxicating and that was all I needed to wear. Please let me know when you get more. Thanks
Written by Mary on April 17, 2012
Read Review details ►
Best perfume I have ever worn and like everyone else I get compliments from strangers and even after I have been wearing it all day and think it's no longer a scent on me. I don't understand how this product can always be out of stock? The company must realize the demand for it. Is there an explanation for why they don't sell this in the stores any more or why you get more than you get when you order it? Also is there a limit to, when you do have it in stock (which seems like never), how many you can buy. I see the perfume on Ebay for an arm and a leg which makes me wonder if people are buying it up on your site and the other sites?
Written by Elise on February 24, 2012
Read Review details ►
D&G Dolce&Gabbana FEMININE. My daughter bought this for me for my birthday and Christmas, which are both in Dec.. She used to buy this for me every year, because I just loved this scent. I got compliments always, everywhere I would go. As for the last 3 years she has had trouble finding it anywhere. I don't think they make that scent anymore. Or if they do , do you know where I can purchase it. I have about 1" left in my bottle. Boo Hoo!
Written by Ridehawk on February 05, 2012
Read Review details ►
D&G Feminine - Absolutely my favourite. This is the only perfume I use and I get so many compliments on it. (have even had people come up to me in the street asking what I am wearing) Gutted it is not readily available. Really do not know why!!!
Written by Andrea Hawkins on November 07, 2011
Read Review details ►
I absolutely love this fragrance! I have been wearing it for quite a while now, and would hope that the company does NOT discontinue it OR change the "recipe" as has happened with other fragrances. This one is a real beauty. It is long-lasting without being overpowering and wonderful for day and evening! I have gotten many compliments on it...even from strangers!
Written by LindaP on June 03, 2011
Read Review details ►
D&G Feminine has a soft natural scent. I have worn it for years and the fragrance remains all day long. I am devastated that this is no longer being produced. It's like gold dust to get hold off!!!!!
Written by Andrea 18/5/11 on May 18, 2011
Read Review details ►
Hands down the most sensual fragrance I have ever wore. I got hooked on it ever sice it came out in 1999 and to this day it's my signature smell. People always ask me what I'm wearing, sadly I have to tell them that it has been discontinued from department stores. I don't know what i would do if I was not able to find it online.
Written by Kam , NY on August 14, 2010
Read Review details ►
I have tried every scent out there to get my "signature scent" and this is the one! I love it because I don't smell like every other person out there-not alot of people know about this scent. My husband LOVES when I spray some on and he really doesn't like scents. Just like the name-it is very FEMININE!!!! My all time favorite.
Written by Anonymous on July 12, 2010
Read Review details ►