write a review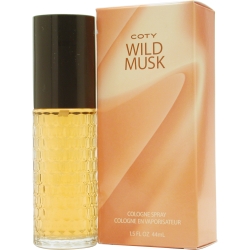 Embrace your feminine side with Coty Wild Musk by Coty, a romantic women's perfume with a subtle yet spicy scent. This alluring floral fragrance features a perfect blend of vanilla and musk, and it has helped add a touch of sensuality to the lives of women around the world since 1973. Apply this warm scent before a night out or an evening in with that special person in your life for a date that won't easily be forgotten.
Write a review and share your opinion about this product with others.
Just fill out the form below and click the "submit review" button.
Thank you for your effort. We appreciate it.
We'd Like to Thank You
to receive special offers & coupons! (optional)
I have worn this perfume for many, many years - I constantly get complimented on great I smell. I love the smell. It will last all day and into the evening if need be. When I am running out I almost get very anxious and need to go buy some more. I do wear other musks, but Wild Musk by Cody is my favorite. Everything else turns too flowery on me and I don't like the flowery scents. Please get this in soon.
Written by muskhave on May 19, 2014
Read Review details ►
i have used Coty wild musk from when it can out and love it ,I also loved the oil and powder I wish you would bring the oil and powder agan, this is the only perfume I ever wore
Written by Dee Shaeffer on April 27, 2014
Read Review details ►
I absolutely love Cody Wild Must Cologne. Have been using it for years., I has a long lasting fragrance that stays with you all day long and into the night. Can't wait till its back in stock again. Always order at least 6 bottles at a time. Please, please, please bring it back. I cannot find it anywhere.
Written by BJ on April 09, 2014
Read Review details ►
I have been waiting for it to be back in stock. I WILL ALSO BUY MANY OF BOTH, the (1.5 oz)Cologne Spray and the oil. The Coty Wild Musk cologne spray has such a clean smell. Lasts such a long time..I love that the scent lingers on my scarfs and coats and am guilty of inhaling the fragrance as if it were fresh laundry or flowers. The oil lasts longer, and is more sensual. It has a deeper, sweeter, earthier, woodsier smell than the cologne.
Written by Amber M on March 25, 2014
Read Review details ►
Must bring back coty wild musk, I grew up with this smell, I promise when it comes back I'm buying bulk so I don't run out, so I beg you to bring this back pleaseeeeeeee Warm regards Michelle
Written by Michelle Woodard on March 20, 2014
Read Review details ►
I would LOVE LOVE LOIVE for the Wild Musk OIL to come back. I wore it in high school and would buy it by the case if I could find it! Not even on EBay : ( Jovan Musk OIL is very yummy too!
Written by Kathy L. Richards on February 27, 2014
Read Review details ►
I have always loved Coty Wild Musk but it's hard to find anymore. Glad I found it on line.
Written by Eileen Whitehead on February 14, 2014
Read Review details ►
I would love more than any thing in the world for the Coty Wild Musk oil to make a come back. This is the only perfume I can wear with out getting chocked up . I have cold. I always bought it at Wal-Mart and find out today it's no longer sold .Please ,Please bring it back .my is a wonderful perfume and smells beautiful and sexy.
Written by christina lovell on February 11, 2014
Read Review details ►
I agree with the other ladies, I have been using Cody Wild Musk OIL.. And I miss it sooooooooooooooooooooo much.... Please bring it back.... Please bring it back... Thank you.. The cologne DOES NOT COMPARE TO the WONDERFUL CODY WILD MUSK O I L
Written by Lynette R. Ingledew on January 14, 2014
Read Review details ►
I love the Coty Wild Musk and it's getting harder to find. I have worn it for years and would like to continue if i can find it. I also get the body spray and it's getting harder to find it. I use to get it at Christmas from Walgreens in the two bottle pack but they said they don't have the sales any more and that's bad. Please don't get rid of it.
Written by Sue on December 14, 2013
Read Review details ►