write a review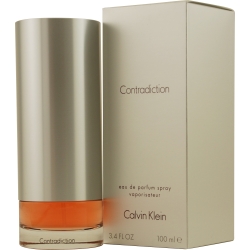 Start your morning off right with a spritz of Contradiction by Calvin Klein, a daytime women's fragrance that was first introduced in 1997. This spicy fragrance features an alluring blend of pure pepper, rose, satin wood and sandalwood, making it an ideal choice for women looking for something other than the traditional floral and citrus scents available. This perfume is designed to last all day long, so apply it liberally before a busy day of work or errands.
Write a review and share your opinion about this product with others.
Just fill out the form below and click the "submit review" button.
Thank you for your effort. We appreciate it.
We'd Like to Thank You
to receive special offers & coupons! (optional)
This was my first time wearing Contradiction, but I have received many compliments on it. My husband loves it!
Written by footloose24664 on January 21, 2014
Read Review details ►
I love this perfume this first time I ever saw it and tried it I was on my honeymoon in the bahamas, i bought it, that was about 15 years ago, and I have been wearing it ever since, I am very picky about the like of perfume I wear, most of them give me a headache and make me sick to my stomach, but I LOVE this one, i didn"t know what to do when they stopped selling it at the only store I could get? Well then my husband told me to look it up on the internet, guess what? IT WORKED!!!!! I told my mom what I did, she had some perfume she use to wear that she loved, that she couldn't find anymore either, so i looked it up and guess what????? ya u guessed it!!!!!! I found it, ordered her two bottles and she was just tickled pinke
Written by stephanie on July 21, 2013
Read Review details ►
This fragrance is wonderful I have been wearing it for over 30 yrs. The place were I first purchased it no longer carried it and that is how I first became a customer to Fragrance Net. This fragrance will always be a part of my fragrance collection.
Written by Khandi on May 16, 2013
Read Review details ►
Everyone loves this scent. I get compliments everywhere I go. Love it love it love it!!
Written by ms1232 on April 01, 2013
Read Review details ►
I'm so glad I found FragranceNet, I have been looking for Contradiction by Calvin Klein for a very long time, Thanks so much
Written by Anonymous on January 25, 2013
Read Review details ►
So happy I found it.. It has been over 10 years, couldn't find it till now.. My favorite! This just made my day :)
Written by Bella on December 08, 2011
Read Review details ►
I've been wearin Contradiction for since I was 13 yrs old and Im 30 yrs old now and I love it I also met my husband when i was 15 and Im still with him now this is a wonderful perfume and I will continue to wear it and purchase from this site for ever ...Love it
Written by Danesha Okc,Ok on February 05, 2011
Read Review details ►
This has been my favorite fragrance for over 10 years. I cannot find it anywhere except for this website. I always get compliments when I am wearing it! Contradiction is very subtle and sensual; men LOVE it!
Written by Elle on February 17, 2010
Read Review details ►
i have worn calvin KHEIN FOR 12 years. i receive some many compliants from sexy, you smell so beautiful,i want to kiss you so bad people have stopped me and asked me what i was wearing.
Written by cheryl on February 07, 2010
Read Review details ►