write a review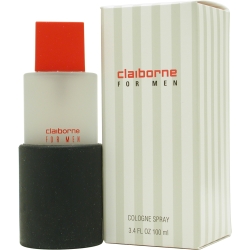 Since 1989, Claiborne by Liz Claiborne has provided men with a daytime fragrance that is perfect for a number of occasions. Its unique mix of basil, lemon, black pepper, coriander, grapefruit and pine needles is combined with rich amber and sandalwood to create a scent that is sure to bring you compliments. The masculine fragrance will suit any event, including a round of golf with friends or an afternoon trip to the park with your family.
Write a review and share your opinion about this product with others.
Just fill out the form below and click the "submit review" button.
Thank you for your effort. We appreciate it.
We'd Like to Thank You
to receive special offers & coupons! (optional)
the Claiborne for men is grate ,long lasting love the sent
Written by elvin on September 02, 2013
Read Review details ►
The Claiborne for Men fragrance is nice, but it does not smell the same as it did when I first discovered it in the early 90's. It had a stronger citrus note to it and it lasted longer when worn. It is more peppery now than citrus in my opinion. It has been so hard to find, I'm just glad you carry it!
Written by John M. Graves on July 31, 2013
Read Review details ►
I have been using Claiborne for men since its inception in 1989. Absolutely the best fragrance out there for men.
Written by Jeoff on November 17, 2012
Read Review details ►
Claiborne has got to be the best !!!!!!!You can not find this cologne just anywhere. I absolutely adore this smell on my husband. It is very manly.
Written by cindy on August 27, 2012
Read Review details ►
I HAVE USED IT SINCE1993 AND I LOVE IT. BUY AT MARSHALLS , SAMS CLUB FOR $13.00, VERY INEXPENSIVE, LAST 10 - 12 HOURS , I WONT CHANGE IT FOR ANYTHING
Written by CS on May 24, 2012
Read Review details ►
I have been wearing this cologne for over 10yrs would not change to nothing else it last all day and smells good.
Written by Frank on April 28, 2012
Read Review details ►
I can't believe I've been wearing this since it came out in 1989, when I was in HS. It's my everyday fragrance and aftershave balm. I like that it's usually worn off by the end of the day, because if I'm going out, I can put on something else without it clashing. However, if I could only wear one cologne ever again, this would be it. I love it so much.
Written by Brad on December 13, 2010
Read Review details ►
I have worn Claiborne for over 15 years and have never tired of its sexy alluring scent. I ware it on any and all occasions, during any time of the day or night. I`ve received many compliments through the years and intend on wearing it for as long as it remains available.
Written by izzymyboy99@aol.com on October 04, 2010
Read Review details ►
I have been using this fragrance for a number of years. I worked for Liz Claiborne for a long time, and used this product daily. It has become increasingly difficult to find. Glad you folks have it. I don't like to use anything else.
Written by Anonymous on August 31, 2010
Read Review details ►
Liz Claiborne for men: I purchased this for my husband based on the reviews I read and also because I love Liz Claiborne for women! Boy am I glad I did! He smells so good that I told him he better carry a big stick with him to protect himself. It is a scent that stands out from the any other men's cologne I have ever smelled. It is clean and fresh, and it seems to get better as the day goes on. Good job Liz Claiborne!
Written by MrsParky on August 10, 2010
Read Review details ►