write a review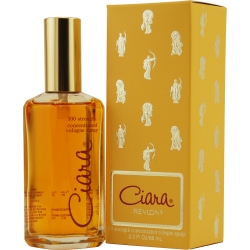 Leave sweet notes in your wake with Ciara 100% by Revlon. This perfume for women combines the sweetness of vanilla with a subtle musk to create a romantic scent that is both flirty and sensual. Introduced in 1973, Ciara 100% is a fragrance designed to set a romantic mood in any setting. This scent can float between two lovers meeting over a candlelight dinner or permeate the air between them on a moonlit stroll. Wherever you go, take this romantic scent along to help create and maintain the mood.
Write a review and share your opinion about this product with others.
Just fill out the form below and click the "submit review" button.
Thank you for your effort. We appreciate it.
We'd Like to Thank You
to receive special offers & coupons! (optional)
I love the Ciara 100% Fragrance . I am 70 years old and I am retired. I had use Ciara before but some how I had stopped use it. And i saw it on the inter net and i was very happy to see it again so i have place two order in to the company and very happy that i can order it from my computer now. My sister like it so well at the age of 85 years i gave her a bottle on her 85 years birthday May 13, 2014. Please keep this Ciara Love it and everyone smell it like the smell of it. Men and women my husband love it and me. i wear it all the time keep the good 100% going. Written by: " Lady 100% Fragrance"
Written by Written by "Lady 100% Fragrance" on May 19, 2014
Read Review details ►
This is a fairly strong fragrance full of musk, bergamot and floral tones. It actually wears well anywhere and with nearly any age group.
Written by Uz on May 07, 2014
Read Review details ►
I have used Ciara for many years and love it even more now. I have had many many compliments on it. I love the scent and just hope they never stop selling it. It is a must for me no matte where the day takes me.
Written by becky atkinson on April 24, 2014
Read Review details ►
I have worn Ciara for years & I love the sweet & floral scent. I will continue to wear it as long as I live. I get compliments every day on how good I smell & I love that. I have recently been in the hospital & the nurses, both male & female, told me I was their favorite patient because my room smelled so fresh & sweet. (I was also the sweetest.)
Written by Suzzie on March 18, 2014
Read Review details ►
Ciara is one of my very favorite fragrances. It's light and not overpowering. I get a lot of compliments when I wear it!
Written by Penny on March 14, 2014
Read Review details ►
i used this fragrance in my early 20's and decided to use it again in my 50's -- a nice all around scent!
Written by m&m on March 04, 2014
Read Review details ►
LOVED CIARA 100% and 80% both. I am 54 years old and you could say I am Old School and liked the classic perfumes and colognes. I found this website by accident too and glad that it popped up on the google search that I did for Mustang Blue Cologne for Men. Wished they had it in stock; my grown sons (21 and 20 yrs old) like Mustang Blue the best. I would highly recommend Ciara 100% or Ciara 80%, to me I really like the scent.
Written by Lyn Rodriguez on February 06, 2014
Read Review details ►
My husband was the one who started me using Ciara. He gave me a bottle for Christmas in 1978 and it is basically the only fragrance I have used since. It is hard to find in the stores and I happened to find your website and having been ordering from you ever since. The prices are great and the service is spot on. I always get compliments from other people saying how good I smell, from women and men.
Written by Written by Jan on January 22, 2014
Read Review details ►
Have worn Ciara for years...and I have been told it is perfect for me and that it smells different on other women...must be my chemistry...love it..
Written by Pippi on December 22, 2013
Read Review details ►
I have been wearing Ciara for years and years. I wear it daytime, night time and to go out. I buy perfume that costs a lot and I always come back to this. Please do not stop carry. I buy it from you by the bottles. Every where I go people ask me what am I wearing. Thanks for carrying this product. Happy Holidays.
Written by Denise Newcomb on December 18, 2013
Read Review details ►