write a review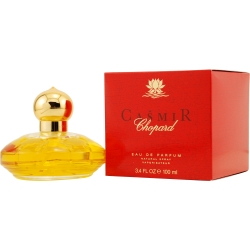 Exude an air of freshness and confidence whenever you wear Casmir perfume by Chopard. The top notes of this women's fragrance combine woodsy sandalwood with aromatic patchouli to create a casual scent. Lower notes of fresh citrus, melons and peaches add a touch of frivolity to Casmir, making it both unique and interesting. Introduced in 1991, this perfume can be worn on relaxed outings with friends, while shopping at the mall or around the house when you just want to feel special.
Write a review and share your opinion about this product with others.
Just fill out the form below and click the "submit review" button.
Thank you for your effort. We appreciate it.
We'd Like to Thank You
to receive special offers & coupons! (optional)
This is my first time using Casmir. I love this fragrance. I have been wearing it to the office and it smells amazing?
Written by cebella on November 13, 2014
Read Review details ►
I have been wearing Casmir by Chopard since the 1990s. There has never been a time when I haven't received compliments while wearing this scent, with questions as to what is is. It reminds me of a comfy chair with a soft, warm throw & a cup of tea. A go to scent that can be worn day or night, casual to formal, & subtle, yet gets attention. It is also a scent I don't grow weary of. However, if you do not like patchouli or sandalwood, don't get this perfume. Overall, this is by far one of the best scents I've ever worn. Imagine my relief when I found Casmir on Fragrance Net because I couldn't find it elsewhere & had been told it was discontinued. Needless to say, I am now sufficiently stocked!
Written by Kerry-Lee on October 24, 2014
Read Review details ►
Been using Casmir since it hit the stores in 1991, Once the dept store stopped stocking I bought it any place I found it and stocked my shelf. When I am warring Casmir I feel feminine and sexy. I ware all the time and all functions. I am so grateful to be able to still find it.
Written by Anonymous on June 08, 2014
Read Review details ►
So happy the Casmir I received was exactly what I remember it to be! I love this perfume and always receive compliments when I wear it. I hope Fragrance Net continues to stock this perfume forever!!!
Written by Joann on May 14, 2014
Read Review details ►
If you are perfume sensitive this may not be for you......I gave it a low rating because it gave me a headache & also it smelled "common", not expensive nor intriguing as I like...smells very "run-of-the-mill"...not for me!
Written by ticky perfume lady on May 01, 2014
Read Review details ►
Casmir by Chopard is by far one of the most elegant perfumes I've worn yet. I wore Elizabeth Taylors Violet Eyes for a while, and needed something for a little spring pick me up. It has a very sweet and sensual by sexy smell, that I adored. I was nervous buying a perfume I've never heard of or tried, but I am glad I bought it. It came in a perfect box that I'm hesitant upon throwing away and as soon as I put it on, my fiance could tell. It's a perfume that makes the perfect impression.
Written by Melissa on April 28, 2014
Read Review details ►
I receive my first bottle of Casmir about 14 years ago from a friend who didn't like it lucky for me. I love it! I wear it all the time and for all occasions. I have not found another fragrance since then that I like, hopefully Casmir will be available forever!! Best of all I receive comments all the time, especially from men, a very simple: "You smell great!."
Written by Darlene on April 21, 2014
Read Review details ►
I am a retired, but socially active lady, and I am sharing that this is the best kept secret to be totally dressed for every occasion. Use sparingly and know this will complete your need to be suttle but noticed. Love this fragrance for all occasions!
Written by Anonymous on April 17, 2014
Read Review details ►
I have had total strangers stop me in the street and say, "Excuse me, but what perfume are you wearing? It's just beautiful!" I have had a person standing behind me on an escalator lean in and say, "May I ask what perfume you're wearing? It's gorgeous." I have family members and friends hug me and say, "Mmmmm.....you always smell so good." And all I wear is Casmir. I think perfume smells differently on different women, but Casmir obviously suits me. I find it to be warm, feminine, and sensual. I just adore it.
Written by Jane R on March 16, 2014
Read Review details ►
The best description for Chopard/Casmir..Elegant!!! This is perfume is to be worn by a strong A class woman. The scent is absolutely wonderful,elegant and powering. I'm in the high fashion world. This scent makes a statement when you enter a room. Every time I walk into a fashion show, corporate meeting or black tie function, I'm asked excuse me the scent you are wearing is absolutely beautiful and you wear it well!!! I highly recommend this scent to all the type A women.
Written by Powerful Woman on February 18, 2014
Read Review details ►