write a review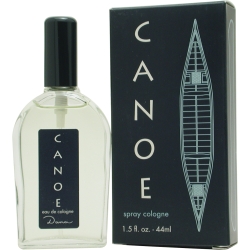 Canoe by Dana is a classic, impressive cologne for men that is known for its brisk citrus base, which is accented by lemon and oakmoss. Introduced in 1932, this fresh scent evokes a sense of old-world timelessness, lending you a distinguished air that will last in the memories of everyone you meet. The scent is distinctive but not overwhelming. Apply a splash of Canoe before you go out in the evening, and take advantage of the sophisticated, elegant charm it conveys.
Write a review and share your opinion about this product with others.
Just fill out the form below and click the "submit review" button.
Thank you for your effort. We appreciate it.
We'd Like to Thank You
to receive special offers & coupons! (optional)
I used Canoe many many years ago. I decided to try it again. I am glad I did. It made me feel young ago. Almost
Written by vet12 on June 11, 2014
Read Review details ►
I Like the contemporary Colognes. CK-1, Curve in their many scent iterations. But Canoe is old school. '60' and 70's old school. Jade East,Hai Karate,Brut,British Sterling just to name a few. Canoe has a 'simplistic tone' to it. But What's cool about it is that these new citrusy/musk colognes blend well with Canoe. I've gotten many a complement on my Cologne 'blends" from my co-workers. Be subtle though...too much of a good thing...just saying!
Written by Scentient Being on June 03, 2014
Read Review details ►
My future wife loved this fragrance when a met her. Naturally it became my favorite too. Canoe has been my my friend for 55 years, often bringing about happy past memories. My seventeen year old Grandson asked me for the name of my cologne. So I'm getting him his own bottle to begin his own set of memories
Written by N. Yang on April 26, 2014
Read Review details ►
This cologne is made for men, but is worn by me, a 57 year old woman....:) I wore Ambush in the 60s and it, along with Heaven Sent, were my go-to perfumes. This scent is as close to the original Ambush that I have been able to find in years and I just love it!!!! I catch myself smelling my sleeves or collar frequently simply to smell the fragrance. Really does take one back...:) I just love it and will wear it, along with the Heaven Sent, always!!
Written by 50slovin'mom on January 18, 2014
Read Review details ►
This is my husbands favorite and now our youngest grandson awaits as he finishes his shave so he can sniff and smile, asking for his own. Delivery was prompt and price was right. It will be under the tree for Christmas.
Written by AquaBarb on December 05, 2013
Read Review details ►
My older brother wore this back in the 60's - 70's. I loved the scent so much that when I started dating my now husband (of 40+ yrs!) I had to buy Canoe for him. He really liked it, too and wore it almost daily until he ran out of it. I tried finding more but had no luck. Eventually I discovered Canoe here and have ordered every year.
Written by krafty gram on November 30, 2013
Read Review details ►
My husband has used Canoe for the last 50 years. He uses it every day. So glad that now I have a place to buy it without hunting thru the stores. Thank you.
Written by Mary on November 23, 2013
Read Review details ►
Love this site for buying my husbands favorite fragrance Canoe. Unable to find it anywhere else. He was happy which makes me happy. Great fragrance and fast shipping.
Written by krisdav on November 14, 2013
Read Review details ►
I use Canoe aftershave and cologne together, one compliments the other perfectly. I have used these products since the early 70s.
Written by Ken B on September 03, 2013
Read Review details ►
I have enjoyed this fragrance since I was a teen. It has always been a favorite. It is never over-powering.
Written by Dennis Ross on April 17, 2013
Read Review details ►