write a review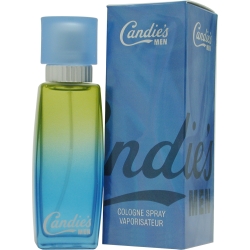 Don't let the name Candies fool you into mistaking this men's cologne for a kids' fragrance. This cologne's fruity notes and spicy blends layered over woodsy green tones result in a fresh, aromatic daytime scent. Introduced in 2000, Candies expertly combines sweet and spicy scents like coriander, watermelon, basil and aromatic woods to create a fragrance bold enough to set the background tone for the workday, but friendly enough keep the mood lively the whole day through.
Write a review and share your opinion about this product with others.
Just fill out the form below and click the "submit review" button.
Thank you for your effort. We appreciate it.
We'd Like to Thank You
to receive special offers & coupons! (optional)
Candies For Men is my all time favorite cologne. One of my nephews bought it for me as a Christmas gift several years ago and I have to be honest, I was offended because of the name. I thought that it was a cheap gift that he bought probably at the last moment. It sat up on my dresser for weeks before I ever used it. But OH when I did! I was blown away and I am an avid cologne wearer and I get compliments on my scents often, but never as much as I did when I wear Candies. This fragrance needs to be put back into circulation. I miss it so much and hate that I can't find it anymore. Signed, Sad customer.
Written by Leonard A. Smith on October 19, 2013
Read Review details ►
Candies is amazing, applying it is like every sense in your brain waking up all at once. Really need to bring this one back, it is a real classic, in my top 10 and I own 100 colognes.
Written by GdS on June 02, 2012
Read Review details ►
Wow ima tell u this the blue bottle of candies! If I were meeting a beautiful lady this was the spice u needed to make ur move forward!
Written by Anonymous on March 12, 2012
Read Review details ►
This is the best fragrance for men I've ever used and very difficult to find but worth looking for.
Written by Alex on February 10, 2012
Read Review details ►
I used to wear candies all the time and that's what I was wearing the night I meet my wife 9 yrs ago and we wish they would start making it again it was my favorite cologne and my wife couldn't get enough of it
Written by Eric Hawley on December 02, 2011
Read Review details ►
My husband wears Candies for men and it smells so yummy on him. Everyone asks whats he wearing. We're really disappointed that they've stopped making such a great fragrance! Still trying to find something that is similar.
Written by Denise on September 22, 2011
Read Review details ►
Candies Mens Cologne. The best Cologne i have ever own by far. Every body loves it. I get alot of compliments all the time.
Written by R,V on July 04, 2010
Read Review details ►
started wearing candies ever since it came out my girl and friends all like it. but now that its discontinued i havent found a store that carries it and believe me ive been searching, please help
Written by sebastian on June 13, 2010
Read Review details ►
If you like this scent, there is a really good chance you will like Ed Hardy Love & Luck for men. The scent is extremely close to Candies, and it is a good replacement since the Candies is so difficult to find.
Written by Derek on April 29, 2010
Read Review details ►
The best cologne I ever owned. Asked about it everytime I wore it. I keep trying to find it, but only in tiny bottles and discontinued ones that smell different. HOW CAN WE GET THEM TO START MAKING IT AGAIN????
Written by Howard on February 23, 2010
Read Review details ►