write a review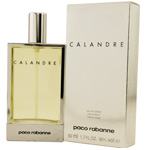 Indulge your feminine side with a splash of Calandre by PacoRabanne, a perfume that has won the admiration of women around the world. Introduced in 1969, this casual women's fragrance combines soft flowers with woodsy, herbal tones for a unique scent unlike anything else that is currently available on the market. Dab this fragrance on your wrists or behind your ears whenever you need a subtle scent for errands or informal gatherings with friends and loved ones.
Write a review and share your opinion about this product with others.
Just fill out the form below and click the "submit review" button.
Thank you for your effort. We appreciate it.
We'd Like to Thank You
to receive special offers & coupons! (optional)
Like most of the comments here, I've used this for over 30 years and hope I never have to change! It's hard to get now but the scent is perfect.....
Written by Judy on June 25, 2014
Read Review details ►
My dear mother gave me this fragrance when I turned eighteen. I am now sixty + and I still wear Calandre from Paco Rabanne, which is very difficult to find in France. Calandre is my number 1. Have the feeling to wear my mother every day. Number 2 is Jardins de Bagatelle from Guerlain.
Written by Francine on April 27, 2014
Read Review details ►
Paco Rabanne is an old friend...I was in Jordan Marsh, passed the fragrance counter and the smell made me stop in my tracks. It is my signature fragrance and I just love it.... Must say it was a lot cheaper than.....I don't ever remember paying a $100 for it. Have a friend who copies everything I buy and she has been asking me for years what the name of my fragrance is and.....I WON'T TELL HER. Somethings are not meant to share....love it...
Written by MsAnn on March 05, 2014
Read Review details ►
WOW! THE DEJA VU OF INHALING THIS FRAGRANCE IS NOTHING LESS THAN DIVINE.. PACO RABANNE CALANDRE IS UNIQUELY SOFT, WHISPERY, AND FEMININE. ECSTATIC TO KNOW THAT I CAN ORDER AND WEAR IT AS MY SIGNATURE SELECTION. PLEASE KEEP IT IN STOCK. LOOKING FORWARD TO FUTURE SPECIALS SO THAT I CAN BUILD UP MY COLLECTION.
Written by SHARRON on January 06, 2014
Read Review details ►
Paco Rabanne Calandre is really nice and subtle. I've used this for over 30 years. I cannot find anything else that I like. A shame this stopped selling at the the stores, but glad you still have it! Thank you!
Written by Tracy on September 18, 2013
Read Review details ►
I have been wearing calandre since 1979 and it is the only fragrance that I LOVE. It is sometimes hard to find, so I stock up as much as possible. There is nothing that comes close to this scent. Once you wear it there is no going back...
Written by NYDealseeker on July 30, 2013
Read Review details ►
Calabdre by Paco Rabanne Exactly what I'd hoped for. I have been wearing this scent for many years and was afraid it was gone forever.
Written by Anonymous on January 11, 2013
Read Review details ►
Calandre!!! I hope you are back for good!!! This is a fragrance that is unique - people have stopped me in elevators and asked for the name of this fragrance - they want to buy it for those they know - don't believe I have had such a response with any other fragrance - it was my signature scent from 1973 until recently went it became impossible to find. I used the bath gel, lotion, deodorant even....just love this frgrance - please keep stocking same!!!
Written by Caroline on December 31, 2012
Read Review details ►
I ordered Paco Rabanne Calandre online because you can't buy it in the dept stores. My mother bought it for me on my 17th birthday in 1969. I love the scent, not over powering. It arrived within 4 days!
Written by Debra on December 16, 2012
Read Review details ►