write a review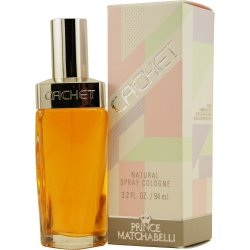 Work with, not against, your body chemistry with the help of Cachet by Prince Matchabelli. Introduced in 1970, this unique women's fragrance features opening notes of hyacinth and heliotrope that blend nicely with lower tones of orris, jasmine and cinnamon and is said to smell a bit different on every woman. A subtle hint of patchouli and musk gives this evening fragrance an alluring scent that lasts as you dance the night away or enjoy dinner with friends.
Write a review and share your opinion about this product with others.
Just fill out the form below and click the "submit review" button.
Thank you for your effort. We appreciate it.
We'd Like to Thank You
to receive special offers & coupons! (optional)
I've been wearing Cachet for 50 years. My brother gave me a bottle on my 16th birthday and I've worn nothing since. I have received compliment after compliment over the years and everyone wants to know what I'm wearing. The scent is so soft and smells different on each person. I wouldn't think of wearing anything else. It is becoming harder and harder to find. I sure hope it never disappears. Thank you for making Cachet!
Written by Sherry Tracy on October 14, 2014
Read Review details ►
Cachet has always been a perfume that i have loved since the early 70s and and it does smell different on each woman and i will be buying cachet again and again thankyou
Written by Anonymous on December 24, 2013
Read Review details ►
One thing which stands out in my mind when I wore Cachet in my younger days of 20 to 30 ish was that Cachet has a scent that no one else can describe. Cachet smells different on everyone else. I always love Cachet. My old favorites were Ambush, Tabu and Cachet. I've never been one who trys new perfumes but I love the old scent and happy to see them on this site. I have searched everywhere for Cachet and no one seems to have it or ever heard of the fragrance. How sad I think! Some of us girls can share our stories tho.
Written by Carol Hawkins on December 19, 2013
Read Review details ►
Cachet has always been my favorite! I have been wearing it since my teenage years (over 40 years!!), I always get compliments on how nice it smells.... Love it, glad it is still available online!
Written by Sue Turnbull on November 12, 2013
Read Review details ►
Cachet, is what my mother use to wear, when I was a Child growing up. I loved the way, it smelled on her. Now, that she has passed on, I want to wear it, in memory of her, When I became grown, I remember buying it, and loving the scent on me. Maybe, when I wear it again, my daughter will like it as well, and continue the tradition & honor her Grandmother, as well!!!! :) :) :)
Written by sharon manier on July 18, 2013
Read Review details ►
This was my best friends"signature" smell, lol, she has searched for it and couldnt find it anymore, she has been having an empty bottle on the counter for awhile. This is a soft scent, not flowery not musky, just a fragrance that makes you want to keep smelling it. I can see why my friend loved it so much.
Written by Ozarkbees on October 18, 2012
Read Review details ►
I really enjoy the smell of Cache. I wear it all the time
Written by Cathy Wentling on August 22, 2012
Read Review details ►
I wore this fragrance - Cachet - back when I was in college. Have been through many years of trying different fragrances - and I always come back to this one. It is not easy to locate in the area I live. I have been fortunate to find it through FragranceNet.
Written by Beth on August 21, 2012
Read Review details ►
I have used Cachet since it came out in the 70s. I am sorry that it was taken out of circulation. I don't mind ordering it on the internet, but I wish it would be brought out again in public. I would buy more if it was available in stores.
Written by Lizziemcd on January 31, 2012
Read Review details ►