write a review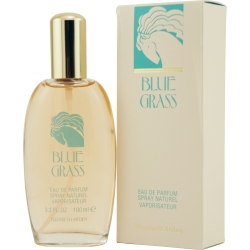 Bring some classic romance into your life with Blue Grass perfume by Elizabeth Arden. Introduced in 1934, Blue Grass for women is an intermingling of fresh-cut flowers and woodsy notes enhanced by the scent of spices. The result is a scintillating fragrance that sets the romantic mood better than candlelight. The light, flirtatious scent of fresh flowers lifts the earthy wood and spicy notes. It's a seemingly light fragrance with undertones both sassy and sexy.
Write a review and share your opinion about this product with others.
Just fill out the form below and click the "submit review" button.
Thank you for your effort. We appreciate it.
We'd Like to Thank You
to receive special offers & coupons! (optional)
I've used Blue Grass since the middle 1950's I never fail to get a compliment on the scent, every time I wear it.
Written by Pat Harrah OK on October 13, 2014
Read Review details ►
I started using Blue Grass in 1955. I still get compliments when I wear it. I'm 79 years young. I had a gentleman follow me from a restaurant one day last month. He said he was going to follow me all day because he liked the way I smelled. Sure glade I found this site. Having a hard time finding it in the stores.
Written by PJ Harrah, OK on September 28, 2014
Read Review details ►
Blue Grass perfume is just as I remembered it. It is a soft clean powdery scent. You need very little. It is long lasting and not flowery as in smelling like a bouquet of flowers. It leaves a clean just showered smell. This makes it ideal for everyday use.
Written by Janice in California on June 23, 2014
Read Review details ►
I have been wearing Blue Grass for forty-five years. I have received so many compliments over the years. I have worked in a Hospital for the last twenty-five years, and my Patients Always tell me that the smell is so lovely and not overwelming. I am always asked where I can find this item.? Now I can tell them Fragrance Net, at a fraction of the cost.
Written by Bonnie S on May 14, 2014
Read Review details ►
I have loved this fragrance and have worn it for over 35 years. It is intoxicating to men, at least in my experience! They tend to love it and always ask what I am wearing, as do women. It smells like a perfect field of new mown alfalfa, and I adore it. I wish the manufacturer would come out with a gorgeous limited edition bottle of this!
Written by PolishBeautyGal on April 04, 2014
Read Review details ►
I discovered Blue Grass as a teenager back in the eighties. I love the sweet powdery scent. I believe this is the only fragrance Elizabeth Arden has ever created that is worth having.
Written by losergirl on February 17, 2014
Read Review details ►
Blue Grass is a great light fragrance and has been around for a very long time. I found it many years ago and every once in a while I feel the need to go back to it. Very glad I found it again.
Written by BB, North Shore on August 27, 2013
Read Review details ►
I love the fresh, flowery smell of Bluegrass and wear it as my everyday perfume. It's always my favorite standby and "go to" perfume. It gets to the point, with any perfume, that you no longer smell it when you wear it consistently so I like to alternate perfumes after a few days of wearing the same one. Bluegrass is the perfume I turn to between other perfumes and as a favorite for certain occassions.
Written by Rhonda on August 27, 2013
Read Review details ►
I have worn Blue Grass for years and still love it. Every time I get a hugh from someone they ask - what is that fragrance? I am glad I can still purchase Blue Grass on line since you can rarely find it in the department stores. I love it!
Written by Lynn B on August 27, 2013
Read Review details ►