write a review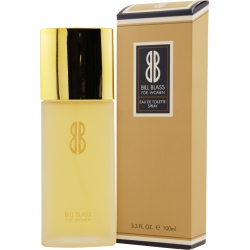 Create a fresh, intriguing feeling with Bill Blass by Bill Blass. This delightful fragrance for women, introduced in 1978, is the perfect complement for a romantic evening out. The delicate scent of blooming fresh cut flowers mixes with a hint of spicy cinnamon and rich sandalwood to bring a touch of passion and joy to your next special encounter. Splash Bill Blass on to your skin before you head out with that special someone for a scent that will last.
Write a review and share your opinion about this product with others.
Just fill out the form below and click the "submit review" button.
Thank you for your effort. We appreciate it.
We'd Like to Thank You
to receive special offers & coupons! (optional)
I am 81 years old and have been wearing this perfume since it came out. I only wish I could get it in the smaller size too for travel. I go to Europe etc. and it's difficult to take the larger size. However I try to pack it in the checked bag. I have tried other scents but Bill Blass original is the best.
Written by Barbara on June 27, 2014
Read Review details ►
I am 76 years old and have been wearing this fragrance for at least 25 years. I hope they never stop making it as I have never found another that I like even nearly as well. I am constantly asked what fragrance I am wearing and complimented on it. The fragrance I am talking about is Bill Blass for Women that was introduced in 1978. It is very hard to find lately and I buy as much as I can find for that reason!
Written by Marsha on June 12, 2014
Read Review details ►
I have been wearing the original Bill Blass for women since the early 80's. This is the only perfume I wear for several reasons. First of all I always get compliments especially from men and this is the only perfume I can wear that I can't smell all day long but everyone else can. The other reason is my husband is allergic to fragrance except this one. I do not feel complete without it on daily. I only have 1 bottle left. Please Please do not discontinue this perfume!!!
Written by southern gal on May 31, 2014
Read Review details ►
Been wearing Bill Blass for Women for over 30 years. The last time I purchased it , was 2 yrs ago and I purchased all they had. I am always looking for this fragrance. It makes me feel special and everyone comments on how good I smell. I love this product. Please bring it back, I am on my last bottle and do not want to go without it. I never changed to another frangrance. I have looked everywhere in every city I go. Please.
Written by Anni on May 19, 2014
Read Review details ►
This is my all time favorite fragrance. I am 82 and have been using it since I was in my 50's. None other gives me the feel and many compliments like Bill Blass. Hope I can "outlive" the sales because I will feel partly undressed without it. Wonderful for day/night, casual/formal. Oooh la la. Please do not EVER quite making it.
Written by Louise on May 19, 2014
Read Review details ►
I have one and only one perfume and that is Bill Blass. I have been using this perfume since the 70s and use nothing else. I am always being asked what is the perfume I am wearing, sometimes by strangers and am told how wonderful I smell. I hope you never give up providing this terrific perfume. Thank you for doing so.
Written by B. Jacobson on May 16, 2014
Read Review details ►
I love this perfume. I've been using this fragrance (the Original one) for over 30 years. I've tried other fragrance but its not like my Bill Blass. So I only use Bill Blass. When I put on my fragrance, I get great compliments on how good I smell. I hope they keep on making this product forever. Loveeeeeeee it.
Written by Carmen Datil from Brooklyn on December 12, 2013
Read Review details ►
I have used this fragrance since 1980. It's my signature scent and I won't use anything else. I always get the most wonderful comments about how subtle but how beautiful the fragrance is. Please don't let this be discontinued. It's getting harder and harder to find it. I just love it. It suits me so well.
Written by Anonymous on December 06, 2013
Read Review details ►
I HAVE USED THIS PERFUME FOR YEARS AND EVERBODY TELLS ME THAT THE FRAGANCE WORKS PERFECT IN MY SKIN....I JUST LOVE IT...BUT LATELY I'M HAVING TROUBLE TO FIND THIS PERFUME....ITS NOT EXPENSIVE...BUT I SMELL LIVE A MILLION DOLAR WOMAN,,,,JUST LOVE IT.
Written by latin woman P.R. on September 12, 2013
Read Review details ►
I loved original Bill Blass from the moment I found it. This is a classic and I hope to never be without it. I absolutely loved the body lotion but they don't make it anymore.
Written by Debbie in VA on August 28, 2013
Read Review details ►