write a review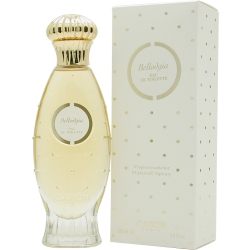 It's hard to find a more romantic women's perfume than Bellodgia from Caron. With the scent of a rich bouquet of fresh-cut carnations and roses, Bellodgia smells of gardens, slow dances and long walks in the moonlight. Introduced in 1927, Bellodgia's classic scent has been delighting the women who wear it-and the men around them-for many decades. Wear this perfume for any romantic occasion for a hint of sophistication. When it comes to romance, you can't go wrong with carnations and roses.
Write a review and share your opinion about this product with others.
Just fill out the form below and click the "submit review" button.
Thank you for your effort. We appreciate it.
We'd Like to Thank You
to receive special offers & coupons! (optional)
Bellodgia is so subltly strong it lingers but does not assault the senses. More modern perfumes stale the air, Bellodgia simply suggests. Truly a magic blend of carnation and other scents this perfrume is so memorable I've worn it, as my only scent since my twenties. I've been complimented on the scent, but rarely because it's not coylying or carrying. It's just there.
Written by GBH on March 24, 2014
Read Review details ►
LOVE, LOVE, LOVE Bellodgia. Been wearing this fragrance since my 20's; now ready to turn 70!!! Always get compliments when wearing Bellodgia. Please, please always keep in stock.
Written by Nancy K. Dunn on January 27, 2014
Read Review details ►
I fell in love with Bellodgia many years ago. It smells like a big bouquet of spicy, fresh carnations to me, and I've found nothing else quite like it. The closest might be Royal Spice which is actually a men's cologne (but great for women too!) The spicy aspect keeps it from being too flowery, and it's not too sweet. I see that many people think it has changed over the years, and it probably has with natural ingredients becoming so expensive. Even so, this fragrance is still great for anyone who loves the smell of fresh carnations.
Written by Ruby B. on July 11, 2013
Read Review details ►
I love this fragrance. I have been using Bellodgia for years. Its hard to find at times. Keep it in your stock. Thanks
Written by Elaine on May 09, 2013
Read Review details ►
Originally,I bought the perfume over 35years ago. I loved it then and still love the fragrance.
Written by Karen on March 24, 2013
Read Review details ►
Bravo Judy S for your comment about Bellodgia. This stunningly beautiful fragrance has been weakened like others I've been devoted to throughout some 50 years. I totally agree that this is a fragrance for a woman and not a teenager. It still stirs serious memories.
Written by Annie on February 02, 2013
Read Review details ►
Hi my name is Ron. I have been giving my wife Bellodgia perfume by Caron for years as she love the fragrance and I like it to. It smell sexy and I can not get enough of the sent. She been wearing it for 35 years so it will be around for another 35 years I hope.
Written by Ron on January 18, 2013
Read Review details ►
A very soft, sweet smelling fragrance. If you love carnations, buy this perfume.
Written by shamsi2 on November 13, 2012
Read Review details ►
I have worn Bellodgia for more than 55 years and it's exceedingly disappointing to find the fragrance I have loved for such a long time is now a pale imitation of the original. I get a brief whiff of the scent when spraying it on, but it's so weak it's no longer a joy to wear. What a shame to be unable to purchase anything as lovely as Bellodgia once was! When a fragrance is destroyed, surely its name should be changed!
Written by Judy S on June 13, 2012
Read Review details ►