write a review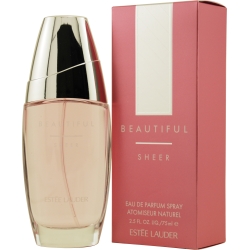 Mark special occasions with the romantic essence of Beautiful Sheer by Estee Lauder. Introduced in 1985, this intricate women's fragrance brings the evening alive with its delicious blend of floral and fruity notes. This unique mingling of scents provides a fragrance that is soft, delicate, and enticingly sweet. Dab this rich perfume onto your wrists to surround yourself with an aura of elegance that invites compliments and lends a special something to any nighttime rendezvous.
Write a review and share your opinion about this product with others.
Just fill out the form below and click the "submit review" button.
Thank you for your effort. We appreciate it.
We'd Like to Thank You
to receive special offers & coupons! (optional)
Beautiful Sheer is one of the nicest light feminine fragrances that I have found. I get so very many compliments when I wear this. I have high allergies and cannot wear fragrances, I am so happy I found this one!
Written by $Ferro on March 14, 2013
Read Review details ►
Soooo beautiful! Fresh, sheer, smells like lily of the valley. Highly rwcommended!
Written by katerina on October 17, 2012
Read Review details ►
Beautiful Sheer is my all-time favorite scent. It's light and long-lasting and not offensive to those with allergies. I enjoy the compliments from teen girls to older gentlemen. This grandma intends to wear it to her grave!
Written by MorticiansWife on October 16, 2012
Read Review details ►
Very nice would like to order a gift set to have lotion and powder also
Written by Anonymous on August 28, 2012
Read Review details ►
The best and refreshing parfume I've ever bought. It will be my favorite parfume for many years to come.
Written by Vicky on August 19, 2012
Read Review details ►
I wear all sorts of perfume..kind of depends on the mood. But this one is by far my favorite. I always get comments form both men and women!! Love it!
Written by Christeen on May 23, 2012
Read Review details ►
Beautiful sheer is wonderful. I will use it for life. Tons of compliments!! Sheer is the pink bottle.
Written by Kw on January 30, 2012
Read Review details ►
Beautiful Sheer is more subtle than the heady Beautiful. It is light and fresh just like Spring. Versatile enough for any occasion. Great fragrance!
Written by Victoria on October 10, 2010
Read Review details ►
I went on a job interview and had to stop at a mini mart for a water and gum a man asked me out for a date because I smelled so nice! I wear this perfume out alot and I always see people looking at me and I always thought it was the weight I TOOK OFF! BEAUTIFUL SHEER
Written by KIMBA on August 15, 2010
Read Review details ►
I will never forget the first time I wore this. A acquaintance of mine greeted me with a hug and almost inhaled me at the same time. That's when I knew that this was my signature scent. I love it for all occasions.
Written by JustRight on June 12, 2010
Read Review details ►