write a review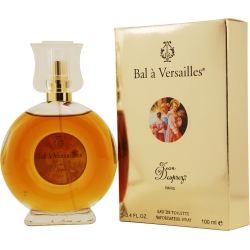 Enjoy an evening out with the exotic scent of Bal a Versailles from Jean Desprez. Introduced in 1962, this sophisticated women's perfume combines soft sweet spices and orange flowers with lower notes of musk, civet and ambergris to create a romantic, enchanting fragrance that is perfect for a night at the opera or theatre, a dinner party or any other sophisticated evening event. Be prepared for compliments when you wear this luscious scent.
Write a review and share your opinion about this product with others.
Just fill out the form below and click the "submit review" button.
Thank you for your effort. We appreciate it.
We'd Like to Thank You
to receive special offers & coupons! (optional)
We all have our own chemistry that certain fragrance's work best, with our own chemistry, my wise Mother taught me this, & gave me Bal A Versailles in my early 20's as a gift, It has been my signature fragrance over 40 years now, & my very favorite... I will be so thankful when it is back in stock, as I am almost out. Please continue to carry it.
Written by Shirley on February 19, 2014
Read Review details ►
My husband, JDR, and I loved New Orleans. He was first man to a friend in the crew of Babylon, and those years were special, intriguing and joyous. He lavished me with this beautiful perfume, with the perfect name: bal a versailles! How fitting for Mardi Gras, and a scent that was always with me...my signature scent. I miss it, and I miss our good times and him. like us all, he had some glaring issues, yet....generous to a fault. Gave himself to others until there was nothing more to give...Any man who truly wants to honor and cherish his Cajun woman...this is the fragrance to know.
Written by Cajun8 on January 23, 2014
Read Review details ►
My husband bought Bal A Versailles for me at least almost 30 years ago and I have been wearing it ever since. When I could'nt find it in the US I bought what I could when I found it in our travels. I can't wait until you get it back in stock. Hurry I am almost out......
Written by Dawn on January 15, 2014
Read Review details ►
My very favorite for as long as I can remember! Just perfect! Please reorder soon!
Written by Christina on January 01, 2014
Read Review details ►
I have been using this perfume of over 35 years and it has become my scent. This is the only perfume I will us.
Written by Terry on December 22, 2013
Read Review details ►
Armani discontinued Gio for Women which was my favorite perfume of all time. I do hope Jean Desprez doesn't discontinue my second favorite. This is an elegant perfume and I use it mainly for evenings. Fragrance net, please get some in soon.
Written by Valerie on December 13, 2013
Read Review details ►
About in the early '60's, I walked into a lovely store in Mexico City and smelled the loveliest fragrance. I asked the sales person what was that lovely fragrance.? She led me to several displays but each one I would say no ~~ then when she lifted the stopper out of the beautiful bottle of Bal a Versailles I said "THAT'S IT". I was in a profession that wearing perfume was not allowed so I bought only one bottle. Now I am retired and have wished I could find Bal a Versailles again. Today while looking at my e-mail I came across this ad. I do hope that I hear from you soon and am told that you have it now. Wonderful!
Written by Annette on November 29, 2013
Read Review details ►
I am so frightened that my favorite perfume may not be being manufactured anymore. I have been having an extremely hard time finding it for the last year or two and now…every place I look…it is out of stock!!! For almost 40 years I have worn nothing else but the beautiful BAL A VERSAILLES by JEAN DUPREZ. There is no other fragrance on the planet that even comes near to smelling like it. Almost every time I go out I have to write down the name of my perfume for someone…men and women alike. It is unique because even though you can definitely smell it on me…it is not overpowering…you just want to have more of it!! I don't know what I will do if they are not making it anymore because…there is NO substitute for this fragrance. Let me know!!
Written by GINNIE on November 17, 2013
Read Review details ►
This is the only perfume my wife has worn for more than forty years and I worry that I will not be able to find it for her in the future as it is not available in the stores I visit. Our children and our grandchildren associate this fragrance with her and I like that it has this memory for her. She uses it whenever it's a special occasion. She has the cologne and shower that she spritzes also. Tell Jean Deprez to produce this forever. I love the fragrance and I think of it romantically as an endearing reminder of her.
Written by Charles on September 19, 2013
Read Review details ►
Love this fragrance have been using a few years. First time purchase with fragrance net and very satisfied. Highly recommend both.
Written by Linda on September 08, 2013
Read Review details ►