write a review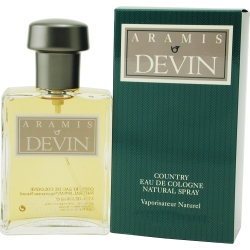 Aramis Devin by Aramis is the right fragrance for the man who likes a little romance in his life. Since 1978, this masculine cologne has featured a mix of fresh greens, citrus and herbs combined with rich spices, incense and amber that provides men with a unique scent that is perfect for a night out with that special someone. Aramis Devin is the right fragrance for every romantic occasion from that candlelit first date to a golden anniversary with your loved one.
Write a review and share your opinion about this product with others.
Just fill out the form below and click the "submit review" button.
Thank you for your effort. We appreciate it.
We'd Like to Thank You
to receive special offers & coupons! (optional)
Aramis Devin: Excelent scent for men; use this since I was 18 and I use it at any time, all day, day, evening, afternoon and night. For any age, 18 to 100.
Written by Bernardo on March 12, 2014
Read Review details ►
Great product. Have used Devin since it came out. The only regret I have with Devin is they no longer have an after shave, or at least I don't think so. I get a lot of very positive comments on this product. It is at the top of my list
Written by Bob on April 16, 2013
Read Review details ►
Like one of your earlier reviewers I had been using it since in Med School in the seventies.. Used along with Paco Rabanne mixed in moisturising cream for use as a shaving balm, I am constantly asked about what the Fragrance is. In western europe it is only now available in select outlets; expensive but certainly value for money.
Written by Ni on February 10, 2012
Read Review details ►
I was introduced Devin by my husband of 29yrs back in college in 1982. My husband liked it so much our first son is named after it he's 29yrs. old. I loved the fregance and he still wears it today. I would like to get the body saop and deoderant. FYI Bryan Gubble wears this also and Kelly Ripa loves it also.
Written by Anonymous on January 27, 2012
Read Review details ►
When I was young I worked in the Men's Fragrance section of a very large department store. Devin was an extremely masculine fragrance and I loved the name. I also vowed when I had a child he would be named after the fragrance. Well 23 years later my son Devin is getting married and I would love every male guest to receive a sample of the fragrance as a memento of this special occasion.
Written by AliJane on January 08, 2012
Read Review details ►
WOW WOW WOW I HAVE BEEN LOOKING FOR THIS FOR 4 YEAR'S. NO ONE CAN GET IT FOR ME. THANK YOU I LIVE IN FLORIDA, I HAD GOTTEN IT YEAR'S AGO IN SAN FRANCISCO AS A GIFT.
Written by CESAR on December 02, 2011
Read Review details ►
Aramis Devin is an awesome product, certainely my favourite, but a bit out of my price range. My main problem is that I used to use Aramis Devin anti persperant and the product has been removed from the shelves. No supplier can offer me an explanation as to why the product is unattainable. I am in South Africa and maybe the product is not attainable here, what about the rest of the world? Greg Smith
Written by Anonymous on November 09, 2011
Read Review details ►
I love Devin, I was introduced to this fragrance during my college years My boyfriend at the time wore this, he worked in a department store and was a test model for Devin. It is so very hard to find anymore. I am so glad to have found this website...I will now begin to wear Devin again, I hope my new love of 8 years will find it as alluring as past lovers. Thank you for making it available...I may just have to wear it in secret, but I will make that sacrifice...LOL
Written by SD JOE on March 13, 2011
Read Review details ►