write a review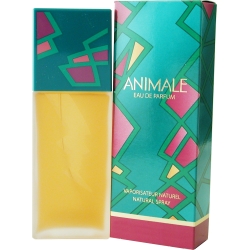 Animale by Animale Parfums features an exotic fragrance that is perfect for the woman looking for a bit of romance in her life. With a sultry mix of pineapple, currant, orange flower, rose and exotic flower scents, Animale is just what you need to turn heads on your next night out on the town. Since its introduction in 1987, Animale has been the perfume of choice for women looking to make an impression on those lovely romantic evenings.
Write a review and share your opinion about this product with others.
Just fill out the form below and click the "submit review" button.
Thank you for your effort. We appreciate it.
We'd Like to Thank You
to receive special offers & coupons! (optional)
I have worn many expensive perfumes but this is my new favorite. It reminds me of expensive French perfume.
Written by Anonymous on March 04, 2014
Read Review details ►
Very good, wore this in the 90s & was one of my faves. Happy to have found it again plus I got the set with the gel & lotion, love it!!
Written by Raven on January 12, 2014
Read Review details ►
Wore this perfume since college years and have always always been asked what it is by men and women. It's HOT! Smells amazing and lasts for a long time. It's a very classy powerful smell not dainty and girly. It displays confidence. I love this perfume and love using it for over 15 years!
Written by Irvine Mom on August 06, 2012
Read Review details ►
It's my signature perfume. It's the one perfume that I get more compliments on than any other of my perfumes. Men and women alike stop me to ask about it. Been using it almost 15 years, when I became intoxicated by it when worn by the Albertson's manager (thanks, Janie!) and I could not resist asking her about it, the way people always ask me! I have not been without it since.
Written by Betty on June 05, 2012
Read Review details ►
I have been wearing Animale for over 20 years,I have had men stop me in the grocery store to ask what I am wearing. I always get compliments, it is all I wear.
Written by Alice Burrill Realtor on November 01, 2010
Read Review details ►
Animal--- is the very best perfume I have ever worn. I love it and when I run out I freak out. I constantly get good things said aboout this perfume. If I could I would wear it every day. The reason I dont is because I cant afford to buy it. It's smells so VERY VERY good! Thanks for making this perfume! Wanda Ammons Kingsland, Kingsland
Written by Wanda/ Kingsland , Georgia on December 22, 2009
Read Review details ►
I have used Animal for over 20 years, I did not know where to get it anymore until I found it on this site. Thank You. Also I fell in love with Animal, Animal, that is my signature fregrance, and everyone comments on it, every time I wear it. What a nice fregrance!!
Written by Paula on December 09, 2009
Read Review details ►
I had purchased Animale years ago, then I was unable to find it anywhere until you located it for me. I love wearing this anytime, anywhere. I feel sporty then sexy with it. I get more compliments on this. It keeps it's scent but it's not overwhelming, just clean and sexy.
Written by Nancy Donnelly, RN on December 02, 2009
Read Review details ►
I am a pediatrician and often hold babies and children on my shoulder. Mothers tell me they detect my fragrance after they go home and the babies seem to like it. A former patient who grew up hugged me and said, "Oh, you still have the same fragrance." I have used Animale for 25 years but still don't know how to pronounce it.
Written by Loraine Stern, MD on November 04, 2009
Read Review details ►
I fell in love with this fragrance years ago and i will continue to buy it. My mother also loves it. It's my favorite. It was the first expensive perfume I've ever brought years ago. I love it.
Written by Jeannette on October 15, 2009
Read Review details ►