write a review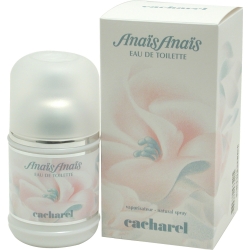 Rich scents of cedar and leather pair beautifully with blooming fresh cut flowers in Anais Anais by Cacharel, introduced in 1978. This light, feminine women's fragrance brings out your delicate side and includes just a hint of intrigue. Warm notes of gardenia pair with luscious jasmine, accented by the unmistakable, fresh scent of lily of the valley. Apply Anais Anais in the morning to add a touch of excitement that will stay with you throughout the day.
Write a review and share your opinion about this product with others.
Just fill out the form below and click the "submit review" button.
Thank you for your effort. We appreciate it.
We'd Like to Thank You
to receive special offers & coupons! (optional)
I like it because soft and warm and sweet. I would warn users to be careful about over spraying or it will offend other people...and ultimately you.
Written by HODGEPODGESPV on September 29, 2014
Read Review details ►
I love the Anais,Anais. I have been using this forever and I'm never disappointed when I buy it. This is a great place to order from
Written by christina Kowal on August 05, 2014
Read Review details ►
I used to wear Anais Anais many years ago and I loved it. It is a really feminine floral type of fragrance, perfect for the summer months. When I received it I was so happy that it was exactly what I remembered it to be!
Written by Anonymous on July 04, 2014
Read Review details ►
I was a model in Europe and met the designer for Cacharel and he gave me a bottle of Anais Anais to try...I have never used any other since the late 70's...I get compliments all the time from men and women you want to know the name ...love this stuff but is always getting harder to find...thank you for carrying it!!! And at a good price too! I also get my mothers perfume here as well cause it can't be found anywhere else...she uses Heaven Scent
Written by Robin on June 02, 2014
Read Review details ►
Anais Anais is a sweet flowery fragrance. I gave this as a gift to my mother who likes the cream as well.
Written by Rickie on May 28, 2014
Read Review details ►
I never liked perfumes because of my aunt. She had the most expensive. Her scent was overwhelming and when she kissed me, I stunk for a week even though I bathed daily. Also, perfumes triggered asthma attacks for me. In the late 70's my husband treated me to Anais Anais. No asthma. I wear it for myself. I am not materialistic, but I have to have this perfume until I die. I am now 71 and use it everyday. No one complains of me wearing too much perfume. It is a subtle but the most beautiful scent at the same time. It pleases me.
Written by Maxine on May 19, 2014
Read Review details ►
Anais has been my 'Signature Fragrance' for 30+ years!! It's as wonderful today as it was when the fragrance was first released! Every woman will LOVE this fragrance!!!
Written by Karen Bickerton on May 18, 2014
Read Review details ►
My hubby gave me my first bottle of Anais Anais in1984, he bought it at the French military exchange. I had never heard of it before then. He had no idea what he was buying and asked the French salesgirls for neu perfume, they only understood perfume. He didn't understand what they said either, h e was terrified he had a loser under the Christmas tree that year. I took one whiff and he said I looked like our. Cat and catnip. I still have that reaction, now that he's gone I spray Anais on and it's like my honey is there with me all over again. It. Helps me on my bad days, of missing him.
Written by Mrs.Bazzano on May 15, 2014
Read Review details ►
I have worn Anais Anais since 1978. I have followed it from Nordstroms to The Bon to JC Pennys to Walmart and now I have found it here!!! Yea! I love the mellow fragrance and I hope it's around for many more years!!!
Written by Cheryl Walter on May 03, 2014
Read Review details ►
Anais Anais - a soft, fresh, feminine fragrance. Perfect anytime, anywhere, like a bouquet of fresh flowers. Simply delightful.
Written by Kayce on March 07, 2014
Read Review details ►