write a review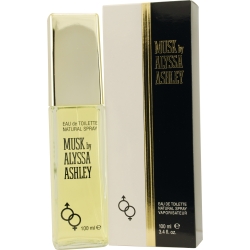 Since its introduction in 1992, Alyssa Ashley Musk from Alyssa Ashley has provided women with a lovely fragrance that is perfect for that romantic occasion. With its mix of scents from greens, musk and soft, powdery flowers, this perfume is just what you need to complement your outfit for a date with that special someone. Its scent is even subtle enough to be worn around your home for your next candlelit dinner for two. It's a fabulous perfume that is sure to add romance to your life.
Write a review and share your opinion about this product with others.
Just fill out the form below and click the "submit review" button.
Thank you for your effort. We appreciate it.
We'd Like to Thank You
to receive special offers & coupons! (optional)
I started using Musk by Alyssa Ashley oils in the 70's. My son found it, gave it to me for Mother's day I forgot how much I enjoyed the compliments when wearing it. Hope the gift boxes come back too.
Written by Barbara63 on June 17, 2014
Read Review details ►
I have used AlyssaAshleyMuskLotion for a long time, and so many people comment, Oooo somebody has some good perfume on. But I love it for a moisturizer. Enuf said!!!
Written by Browneyes1931 on June 10, 2014
Read Review details ►
Musk by Alyssa Ashley is one of my two favorites. It is very feminine and has an expensive scent--not cheap smelling at all.. I ran out of it some time ago and just got to thinking I wanted to get some more and glad I did. I guess you would call it a flowery scent but need to experience it yourself to appreciate it to see what I mean.
Written by Donna on May 19, 2014
Read Review details ►
I have used Alyssa Ashley Musk ever since I can remember. It is light enough to wear every day, yet you will get compliments from everyone! I have been in the bank, the grocery store, and the workplace and have had so MANY people say "you smell so good!". I don't care who you are, a compliment like that is always good for morale!!! Try it, I'll bet you love it as much as hundreds of thousands of other women (and men!!)!!
Written by Linda Y. on April 22, 2014
Read Review details ►
I wore this in my early 20's. I forgotten about this. I have recently foound it again. What a treasure. A small recapture of youth. energizing. Love it.
Written by sadie belle on April 18, 2014
Read Review details ►
A classic. This is my signature bedtime and weekend scent.
Written by Wendy on March 31, 2014
Read Review details ►
I started wearing this fragrance, mainly in oil form since I was 15 years old. I just hit the BIG 50 and still love it. It's a soft subtle scent that last all day. Best musk ever!
Written by Bex11 on February 22, 2014
Read Review details ►
I have worn this Alyssa Ashley oil for over 30 years and I Love it. I wish you would carry the gift sets like I used to buy they were great .
Written by Sa on September 16, 2013
Read Review details ►
When using Musk by Alyssa Ashley I even get stopped and asked "What fragrance is that? It is so lovely". I love it so much I need to order from New York as it is not sold in Australia anymore. I love the Oil especially.
Written by Patricia on September 03, 2013
Read Review details ►
service was great. Price was ok. couldn't find this fragrance in the store. was happy to get it again.
Written by Diana on August 19, 2013
Read Review details ►