write a review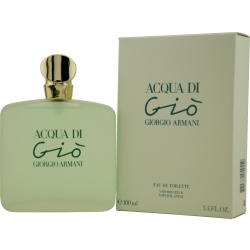 Acqua di Gio by Giorgio Armani is a fresh floral, sweet pea, and jasmine scent for women that is sure to please. This daytime scent is great for heading out with friends or staying at the office for work. Introduced in 1995, this unique fragrance will draw the attention of others without being overbearing, whether you're out to lunch or shopping. Simply apply it and you'll have a lovely scent that will stay with you throughout the day.
Write a review and share your opinion about this product with others.
Just fill out the form below and click the "submit review" button.
Thank you for your effort. We appreciate it.
We'd Like to Thank You
to receive special offers & coupons! (optional)
I just can't get over this lovely fragrance. I had no idea that this was an oldie, it smells so fresh and modern. 1995 eh? Wow,almost twenty years old. I bought it for a friend who's getting married again for the second time,(widow for eleven years) and she was floored by the scent. She said it was the perfect summer wedding gift she's ever gotten and hopes that the new hubby likes it. I'm so thrilled I think I'm getting myself a bottle,this is too good to pass up!! Acqua Di Gio by Giorgio Armani....Summertime in a bottle.
Written by Oh Canada on June 05, 2014
Read Review details ►
Acqua Di Gio is a wonderful fragrance, I have been using it for the last 10 years and get compliments in it all the time. It makes me feel special. I wear it for special occasions and for sitting around the house.
Written by Judi on October 18, 2013
Read Review details ►
Acqua di gio, what a beautiful, fresh and alive fragrance. Highly recommended
Written by Anne on May 25, 2013
Read Review details ►
The BEST scent out there. It is long lasting and you don't need more than one spritz. This is the original, the one for the guys came out later. It is enticing, unique and greats rave reviews from the person walking or standing by you in line. Lovely, delightful, can be worn all day and all night, but I don't often use it in the morning if I'm staying home. If I do leave the house prior to ten, it is on me. I like to layer another scent on it for the evening, it mixes well with most things, but not female scents that smell like leather.
Written by Red on March 14, 2013
Read Review details ►
perfect nice job. congrassssssssssssssssssssssssssss
Written by fioricruz@hotmail.com on March 01, 2013
Read Review details ►
I LOVE THIS FRAGRANCE!!!! Don't let this disappear from the store shelves...It's the ONLY perfume I CONSTANTLY get compliments about!!! xxxxxxxx
Written by Lynda on January 13, 2013
Read Review details ►
I just today ordered this. I discovered this perfume when I was walking through the local supermarket. A woman walked passed me and she was wearing this perfume. I thought about asking her what it is, but I just kept on shopping. But I couldn't stop thinking about this beautiful scent. As I got to the checkout she was checking out. I gently tapped her on the shoulder and asked her, "What are you wearing as it smells so wonderful and I am impressed with it". She told me what it was and even spelled it out for me so I wouldn't forget it. I told her it is the most beautiful smelling perfume. It has a light not overpowering smell. It smelled like fresh flowers. It's like picturing a sunny meadow with clean water running through it. But it will grab your nose if anyone walks by you and their wearing it. You won't forget it. I was sold on this perfume after I smelled it when she walked by. It gave me a pleasant feeling. It's like when having a streesful day, you smell this perfume and the tension leaves your body. I was having rather an unpleasant day and this perfume made me forget about the troubles I was having. If I locate any other types of products such as candles, body lotion with this scent I will definetely buy them.
Written by Sue on December 19, 2012
Read Review details ►
I have worn Acqua Di Gio since I was 16; it was my birthday present from my then boyfriend (now husband) and I have always loved it. It's special to both of us because this scent holds so many memories as I'm now 21 and he's 23. I always receive compliments on this perfume, and I don't feel like myself until I've finished getting ready with a spray to my wrists and a dab on my neck. I'll always buy this perfume; nothing else holds a candle to it.
Written by Silver.Wolf on December 18, 2012
Read Review details ►
My all time favorite perfume. It should be available everywhere. There's just nothing like it. Everyone always asks, "what's that amazing scent?" and there is absolutely no comparison between Gio (the original version) and Gioia the new version. Gio is the very best! Please bring it back Armani!!!
Written by Anonymous on December 08, 2012
Read Review details ►