write a review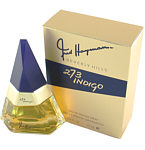 Nestled at the bottom of a contemporary pyramid bottle, 273 Indigo is a women's fragrance that sets the stage for excitement. This perfume is perfect for daytime. It will inspire you at the office, yet is casual enough for the weekends. The scent combination includes apple, amber, lemon, and jasmine, with a warm cedarwood base. You can thank Fred Hayman for introducing this fragrance in 2003, which has been a hit ever since it hit the shelves.
Write a review and share your opinion about this product with others.
Just fill out the form below and click the "submit review" button.
Thank you for your effort. We appreciate it.
We'd Like to Thank You
to receive special offers & coupons! (optional)
273 Indigo is a great fragrance for anytime. My husband especially likes it so I wear it often. Coworkers and customers notice and say I always have the best fragrance on(men especially). Recommend you at least try it. You will not be disappointed.
Written by Terry on December 30, 2013
Read Review details ►
It's hard to find this PARTICULAR version, the ones that have came after this one don't smell good. BUT THIS ONE, I've woren for more then 5 years. Thank you for always having this in stock! Im a male, no male cologne comes close to this, even the men's version isn't as good as this one! Indigo_Fred Hayman
Written by Ian - Seattle, WA on September 25, 2013
Read Review details ►
This is so nice, I get complimented and have just re ordered.
Written by Lillian Qld Australia on June 28, 2013
Read Review details ►
I bought the Indigo fragrance of Fred Hayman and it has a strong and distinctive perfume. Its fragrance lasts for several hours and it has warm and spicy undertones. It can be worn day or night by mature women.
Written by Madeleine on January 25, 2013
Read Review details ►
i love this perfume someone brought me thisfor a gift one time and it was a must get item again smell very pretty. yesi would by it again
Written by dh on October 30, 2012
Read Review details ►
I absolutely love this perfume. A co-worker of mine had it on and I just loved it so much that I asked her what was she wearing and she said 273 Indigio. I immediately came to fragrancenet. com to buy it. I have received lots of compliments on this scent. Women and men both have told me that they love the way that it smells. I am a 33 year old "WOMAN" and this is going to be my signature fragrance for now on.
Written by Valerie on May 18, 2012
Read Review details ►
One of the most enjoyable fragrances I have ever used. Always have compliments
Written by Suzanne on July 05, 2010
Read Review details ►
I chose 273 Indigo for its lemon base. I get compliments from everyone on the clean smell of it. As a nurse, it doesn't offend my patients. It's great when someone asks "What are you wearing? You smell so good". Love this fragrance!
Written by jo on December 15, 2009
Read Review details ►
273 indigo is a grrrrr8 perfume ... I first bought it in chicago... I was going to buy Dolce and Gabanna light blue and the saleslady suggested to me that I buy the 273 indigo instead... It had more of an oily texture and the fragrance last forever in clothing... say you dont wear a shirt for a month and you had sprayed some of the perfume on there...it will still be there when you put the shirt back on ... I love this stuff...cant wait to get some more...
Written by K-nutty on August 24, 2009
Read Review details ►
I just love it and get complimants on it all the time. I can not wear perfumey fragrances because of my allergies but this just smells fresh and clean. My favorite
Written by Anonymous on May 29, 2009
Read Review details ►