write a review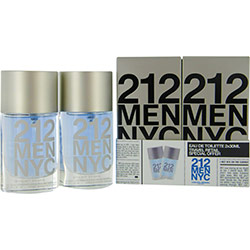 Introduced in 1999, 212 for Men by Carolina Herrera captures the spirit of New York. It elegantly combines woody, floral, and musky notes in a distinctively energetic bouquet. Top notes of mandarin and grapefruit are underpinned by sandalwood and iron woods. A gentle spice ties the fragrance together, giving the wearer a sensual and alluring scent. It exudes the stylish aroma of refinement appropriate for all daytime activities. This sophisticated bottle truly matches the cologne inside.
Write a review and share your opinion about this product with others.
Just fill out the form below and click the "submit review" button.
Thank you for your effort. We appreciate it.
We'd Like to Thank You
to receive special offers & coupons! (optional)
I don't know what they put in this but I swear there must be a drug in it because the fragrance makes every one around you fall in love with you. I have people wanting to hang over me because they say I smell so good. It's fragrance is like no other and I'm always asked what I'm wearing. It's a perfect 10!!!!
Written by Lance on June 11, 2014
Read Review details ►
212 is an all around pleasant fragrance. It is easily the best scented cologne around. A great scent for any occasion. Awesome price for the combo package too.
Written by churro on April 08, 2014
Read Review details ►
am from Ghana ..and as a student in the tertiary ,everyone who travels during the long vacation bring 212..so i tot i have to own one,its a bit expensive in my country but i did bought..and am now counted among the big guys ..bcos of how i smell.
Written by akeem on September 29, 2013
Read Review details ►
212 still sits at #1 in my top10 list of mens cologne. It's just one of the greatest forever complimenting colognes you could buy. The smell is memorable and leaves a lasting impression.
Written by A.Johnson on August 11, 2013
Read Review details ►
If they Ever Stop Making this Cologne, I think I would Just stay at Home and Never Shower again!... I would feel naked and unclean without it... It is By FAR the Greatest Mens Cologne ever Designed! Every one that Comes near me Falls In Love with the Fragrance.. It is like NOTHING you have ever tried before...an absolute MUST to try! I Guarantee it will be the LAST Fragrance you will ever want to buy, it is that phenominal The Scent Cannot be Described Subtle yet Strong its as tho it has a Magic Chemical in it. It tends to allure anyone you come in contact with. I give it 10 stars out of 5!
Written by Thesilentrock on July 09, 2013
Read Review details ►
This is Without a Doubt the Most Unique and BEST Fragrance I have Ever Used. I Receive More Compliments on This Fragrance from both Men and Women. I get asked on a Regular basis What Cologne am I wearing. I work in Retail and on a Daily Basis Someone is walking up to me and Complimenting me on How Good I Smell. This is the ONLY Cologne I will ever wear. I have used it now for 2 years and panic when I run out! You MUST try it !
Written by Larry on June 25, 2013
Read Review details ►
When I first found this fragrance for my husband I had been at the perfume counter for at least an hr. Testing all sorts of scents. Something just wasn't doing it for me ... testing one fragrance after another. Then I found 212 Men!!!! That was it.... i was sold!!! I'm sure the women at the counter was just as happy as I was. This is the 2nd time i've purchased this for my husband.
Written by LuLu on June 13, 2013
Read Review details ►
212 is new for me and am now hooked on the great scent
Written by Shayne on May 30, 2013
Read Review details ►