Eau De Toilette

100% Authentic
Item #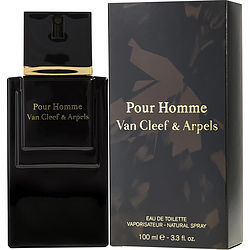 Zoom
eau de toilette spray 1.7 oz
eau de toilette spray 3.3 oz
Free Shipping in U.S. (orders over $59.00)
Design House:

Van Cleef & Arpels

Fragrance Notes:

Basil, Thyme, Marjoram, Patchouli, Temisia, Cedar, Vetiver, Moss, Labdanum, Castoreum, Juniperberry, Leather

Year Introduced:

1978

Recommended Use:

romantic
No reviews written for this product
When first applied, this fragrance reminds me of Polo (original/green); but it quickly presents a more complex mixture of notes, including tarragon, sage, tobacco, clove, oakmoss, and a definite hint of soapiness. There's also a bit of floral in the middle notes, namely jasmine and rose. It's woodsy, masculine, and very sophisticated. This is definitely for those that like the classic "Powehouse" colognes. The key is in the dry-down. When you first spray it on, it may be overpowering to some, but in 5-10 minutes, the cologne really begins to show its complexity and beauty. I really like this cologne, and would wear it anytime I would normally wear Enre Noire or Polo as they have many similarities. This is a wonderful classic for a man who can pull it off. I love it.
Written by JJN on July 03, 2015
Van Cleef & Arpels pour homme or men's cologne is strong but elegant. A little of it will go a long way. People always ask what cologne I am wearing. It has a warm spicy and earthy scent. It is perfect for both a formal night out or a very special evening at home with candle light or a fire.
Written by Ghotep on September 25, 2014
*A complex unique scent for someone who wants to smell wealthy! Manly, in an exotic / elegant way and prepare to stand out in a crowd. (intense - you only need a very small dab between your neck and chest then you're set for six hours)
Written by Edan Willhelm on September 04, 2014