Eau De Toilette

100% Authentic
Item #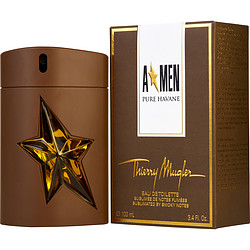 Zoom
eau de toilette spray (limited edition) 3.4 oz
Free Shipping in U.S. (orders over $59.00)
Design House:

Thierry Mugler

Fragrance Notes:

"fresh tobacco leaves, honey, patchouli, vanilla, bitter cocoa"

Year Introduced:

2011
No reviews written for this product
pure havane this thing is the best I wear it to work most morning lots of complements from old ladies to young ladies . there's lady every morning she have to hug me ,she says how you smell so good .
Written by Anonymous on August 24, 2015
Pure heaven!! I bought this fragrance for my husband and he loves it!! Most scents don't stay with him long - the only not so good thing about it! Pure Havane is the best of the "Pures"! Top notes of honey and tobacco. I have also had him try A-Men, Pure Leather, and Pure Malt - all are good.
Written by Leopard Jan on July 06, 2015
I didn't get the cherry/tar that others get on first spray..I got spicy honey..on drydown its like honey pipe tobacco with a faint hint of something else. I cant place it..I put 2 light sprays on at about 10am and can still smell in lightly at 2:45am..the sillage is really nice for first 5 or so hours then it becomes a small cloud around you..I like it...its smells very good and for me its not to gourmand.
Written by Adam W on June 14, 2015
I believe this is one of the best thierry mugler fragrances of all time. You still get the tar note at the opening but when that dries down you get a sweet cherry/honey scent with a little bit of leather and tobacco. Very nice for the cooler months. Would recommend for casual/dates. I can see this being my signature scent for the winter. This is a definite try if you like sweet/leathery scents.
Written by Jaden on February 22, 2015
I am very pleased with my recent order of Thierry Mugler Havane. The shipment arrived ahead of time which was greatly appreciated, and I am enjoying wearing it. I look forward to future orders.
Written by Howard on December 07, 2014