Paco Rabanne 1 Million Absolutely Gold
Parfum
by Paco Rabanne

100% Authentic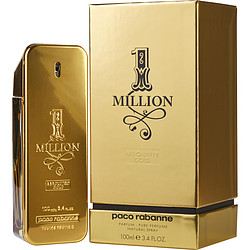 Zoom
Free Shipping in U.S. (orders over $59.00)
Design House:

Paco Rabanne

Fragrance Notes:

Mandarin, Vanilla, And Fresh Leather.

Year Introduced:

2012

Recommended Use:

daytime
No reviews written for this product
I PURCHASED ABSOLUTE GOLD LAST YEAR CHRISTMAS FOR MY THEN 20 YR OLD SON AND WISHED THAT I BROUGHT IT FOR ME. MY SON WAS ALWAYS GETTING INTO MY VERY EXPENSIVE GOOD STUFF SO I STARTED HIM OFF WITH A NICE FRAGRANCE. 1 MILLION ABSOLUTE GOLD WILL BE HIS EVERYDAY FRAGRANCE. HIS GIRLFRIEND LOVES IT.
Written by LAWRENCE R. HOUSTON on September 29, 2016
I have to say that this version of Paco Rabanne 1 Million Absolutely Gold did very well,it is absolutely golden one,smell makes you relax,perfect for the day time...Great service by fragrancenet...Thank you...
Written by Hasan on October 06, 2014