Eau De Toilette

100% Authentic
Item #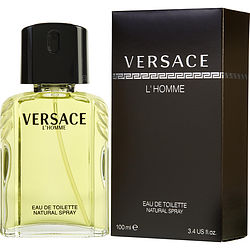 Zoom
eau de toilette spray 1.6 oz
eau de toilette spray 3.3 oz Tester
eau de toilette spray 3.4 oz
Free Shipping in U.S. (orders over $59.00)
Design House:

Gianni Versace

Fragrance Notes:

a spicy and fresh scent of fruits, jasmine musk, wood and amber.

Year Introduced:

1984

Recommended Use:

evening
No reviews written for this product
Versace the original is my favorite scent despite newer scents arrival, to me it's smell is timeless, mature yet sensual to the senses, that casual or more serious embrace makes one say hmm or aah all at once. Versace L'homme is it.
Written by Curtis on April 13, 2015
Versace L'Homme - One of the top 5 fragrances for men ever created. I've purchased I provide it as a gift for special clients, and any male show of appreciation.....never had one single negative comment. It is such a masquline,hypnotic scent. I't hard to find, but worth the effort. It speaks volumes about the man that wears it.....all good.
Written by Barb in Dallas on February 10, 2015
I insist my man always wear Versace L'Homme. It is just so right, so sexy, so him, a most delicious man. It has a wonderful balance of the different elements to create a memorable scent that leaves some haunting memories behind. It is not overpowering or cloying. I highly recommend this fragrance for the right man.
Written by Diane on Sept. 11, 2014 on September 11, 2014