Eau Sauvage Parfum
Eau De Parfum

100% Authentic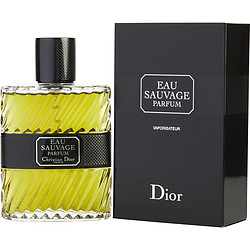 Zoom
Free Shipping in U.S. (orders over $59.00)
Design House:

Christian Dior

Fragrance Notes:

Lemon, Bergamot, Jasmine, Rosemary, Vetiver And Oak Moss.

Year Introduced:

1966

Recommended Use:

daytime
No reviews written for this product
It's expensive but it's worth it. It's what you would expect a rich businessman to wear at the office or out on the town. Rich deep smell on application fading into a warm wrap around scent within 15 minutes of application and lasting much of the day. It's the kind of smell that you want to keep on smelling because you keep saying where have you been all my life and why didn't anyone tell me about this before now........You will get asked what you are wearing by both sexes.
Written by Kerry W. Canada on July 14, 2016
My wife and I both like and use this fragrance. My wife likes the citrusy notes, and I like the mossy/woodsy notes that come later. The parfume lasts longer than the eau de colonge, and that's why we opt for it.
Written by Bruce in North Georgia on May 27, 2015